Priyanka Gandhi gets stuck, shoved in crowd at midnight candle march
"Those who are here to push around people must go home", says an angry Priyanka who was shoved amid the chaotic crowd.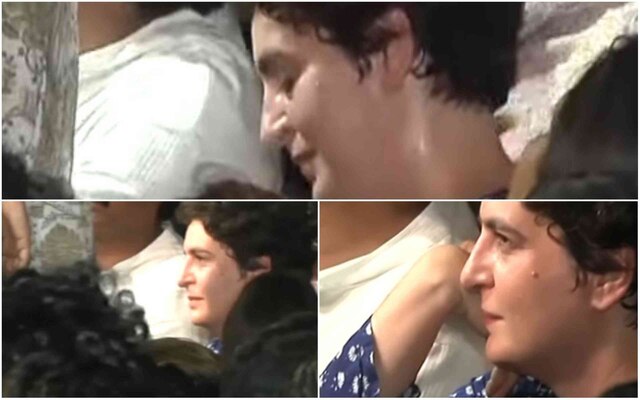 New Delhi: Congress Chief Rahul Gandhi and sister Priyanka Gandhi on Thursday led a midnight candle march at India Gate, protesting against the recent crimes perpetrated against women, particularly the Unnao rape case of Uttar Pradesh and the Kathua rape case of Jammu Kashmir.

A massive crowd participated in the march, leading to mismanagement.

Ironically enough, in the march taken out to demand protection of women, Priyanka Gandhi got shoved amid the heavy crowd that had gathered.

Priyanka Gandhi who got pushed around by some in the chaotic crowd got angry and asked people to reflect on the cause they had gathered for.

An angry Priyanka told the crowd : "Those who are here to push around people must go home. Now please maintain calm and walk silently." "Think about the cause for which you have come here," she said.

Other women leaders of Congress including Divya Spandana, Sushmita Dev were also stuck in the crowd.

In Unnao a minor girl was allegedly raped by a BJP MLA, who has been detained by CBI. In Kathua, an eight year old girl was abducted, gang-raped and later killed. These incidents have triggered wide-spread furore among the citizens.

The two incidents have created Nirbhaya rape case-like unrest in the country.

Rahul Gandhi said: "We are standing against the continuous incidents of murder, violence and rapes. We urge government to resolve this matter and build a safer environment for women. We want that an Indian woman can walk freely on streets and lead her life without fears."

He stressed on the fact that the protest was not for a political issue but a national one.

Congress leaders Ambika Soni, Salman Khurshid, Ajay Maken and others also participated in the march.

Watch the ruckus created at the March by some unruly people in the March.