Love to have played against India more often: Misbah-ul-Haq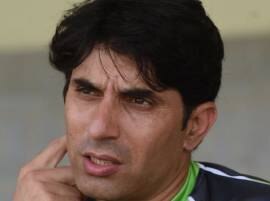 By:

PTI
Updated:
20 Dec 2015 12:48 PM
Karachi: Disappointed with the fact that chances of the bilateral Indo-Pak series are all but over, Pakistan Test captain Misbah-ul-Haq on Sunday said he would have loved to play more cricket against India in the last few years.

"It is disappointing that Pakistan and India are not playing and don't play more often against each other," said Misbah.

"I just think Pakistan and Indian cricket teams have so much chemistry when they play against each other and it is also disappointing for the fans in both countries the existing scenario," he said.

"I would love to have played against them more often in Test cricket in the last few years. They have quality spinners and world class batsmen who play spin well that is also our strength and it is always a special rivalry when we play against each other," Misbah added.

He pointed out that there was a lot in common in between both countries and players and people loved to see the two teams engaged in cricket contests.

"Playing against each other is beneficial for players of both teams in many ways and I think the players are disappointed that we don't have more cricket," the senior batsman said.

Misbah, who has been Test captain since 2010, said he had hoped to lead Pakistan against India in a proper Test series this December and would have liked to end his career in a befitting manner.

"It is disappointing that is not going to happen by the look of things. Not playing against each other affects cricket in both countries." Pakistan is presently languishing at ninth position in the ICC ODI rankings and Misbah put this down to lack of exposure for the players at the domestic level in 50-overs
cricket.

"We are doing okay in Test cricket and T20 format because our players play a lot of first class matches and T20 events in Pakistan. But we hardly have any 50-over competitions at the domestic level and that is hurting our cricket," he said.