REVEALED: Why did Dhoni ask to file a PIL to know retirement plans?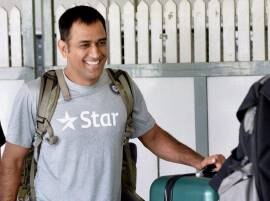 Adelaide: Mahendra Singh Dhoni's response to a question on whether he'd played his last ODI, at the SCG on Saturday, may appear to have been somewhat in jest, yet he made a point in his own way.
It's another matter that everybody may not find Dhoni's manner palatable. But, then, India's most successful captain hasn't ever been too bothered about how others react to anything he says.
On Sunday evening, grinning, Dhoni told The Telegraph (at the InterContinental): " Mujhse pucha gaya toh maine keh diya 'you have to file a PIL to find out'... Aur kya kehta?"
[Incidentally, only recently, Dhoni was taken to court in a matter not related to cricket and, initially, a non-bailable warrant had been issued by a court in Andhra Pradesh.]
The question - similar to one after India lost to Australia in the 2015 World Cup semi-final, at the same ground, 10 months ago - was asked at the post-match media conference.
India won the last ODI, after losing each of the first four. A 0-5 rout was, thankfully, averted through classy batting.
Dhoni, who has already retired from the Test format, remains India's ODI and T20 captain. He's certainly there till the upcoming World T20, something made public by chief selector Sandeep Patil.
However, with Test captain Virat Kohli being among the runs in a significant way and India clawing back to No.1 in the oldest format's rankings, the heat on Dhoni will get more uncomfortable.
Unless, of course, the results swing India's way. The three-match T20I series, beginning here on Tuesday, is opportunity No.1 for Dhoni.
Courtesy: The Telegraph