Shoaib Akhtar expresses hope on PM Modi's historic visit to Pakistan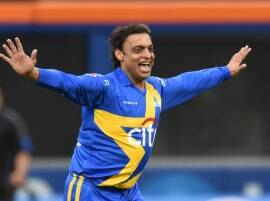 New Delhi: 
Former Pakistan fast bowler Shoaib Akhtar was all praise for Indian Prime Minister Narendra Modi's surprise visit to Pakistan and termed the visit as a "great" news for Indo-Pak ties.
PM Modi, who earlier landed in Kabul from a successful visit to Russia, made the decision to visit Pakistan and greet his Pakistani counterpart Nawaz Sharif on his 66th birthday, a move that is being largely projected as unplanned.
Shoaib Akhtar, on his part, expressed happiness at the sudden visit by PM Modi and tweeted that this was an opportunity for Pakistan to show their Indian guest their "great hospitality".



Great news prime minster of India Is here Let's us show our great hospitality what we are famous4 Great news for the Indo Pak relationship


— Shoaib Akhtar (@shoaib100mph) December 25, 2015
Akhtar also posted another tweet where he hoped that PM Modi's historic visit to Pakistan augurs well for both countries. This tweet was deleted later, and no explanation was given for the same.
Screen grab of Shoaib Akhtar's tweet where he talks about Indo-Pak ties.
Shoaib Akhtar, one of the fastest and most fearsome bowlers of all time, has been a crowd favourite always and his duels with the Indian batsmen, especially the great Sachin Tendulkar, are well-renowned. The Rawalpindi Express, as he is popularly known as, has also featured in the Indian Premier League, playing for the Shah Rukh Khan-owned Kolkata Knight Riders.