Mercedes-Benz Reaches Out To Potential Buyers In Tier II & Tier III Indian Cities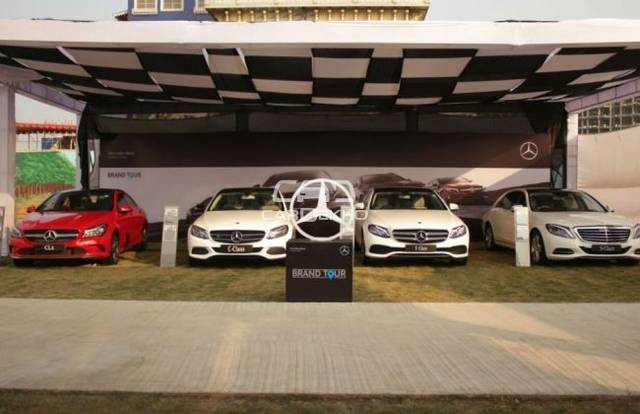 The luxury carmaker aims at grabbing a chunk of increasing disposable incomes beyond metro cities
Mercedes-Benz India has been aiming at increasing growth numbers and for that reason is planning to expand its footprint in tier II and tier III cities as well. After focusing on metro cities for a long time, the luxury carmaker has now kicked off a new customer engagement initiative, 'Go To Customer' under Mercedes-Benz brand tour. This exercise will aim at influencing new car buyers who do not have direct access to the company's showrooms in remote cities which have a taste for luxury cars but can't access it.
These brand tours will have all the elements of a showroom like audio-visuals and brandings, then the added incentive of experiencing the true capabilities of the vehicles on off-roading zones which will highlight the key features of Mercedes-Benz SUVs. Those looking for some Mercedes-Benz-branded memorabilia can also find official merchandise at the venue. Also Read: 2018 Mercedes-Benz A-Class: All You Need To Know
Under this initiative, potential buyers will be able to take test drives of a Mercedes-Benz of their choice and experience every aspect of the brand up close and personal, with the convenience of on-the-spot booking. Those intending to purchase a three-pointed-star vehicle would be provided with an opportunity of special trade-in, complimentary vehicle evaluation, personalized finance schemes and value additions like dedicated sales and Mercedes-Benz certified teams to take care of all fronts. Related: Upcoming Mercedes-Benz Cars In India
The tour will travel across 12 locations in India and has already been concluded in Jalgaon, Agra and Salem. The remaining cities according to the schedule include Patiala, Kottayam, Shillong, Bhopal, Ahmednagar, Shivmoga, Rajmundry, Jodhpur and Kolhapur. These locations have been chosen after a lot of research regarding the demand and fondness for luxury goods among the inhabitants. Related: Mercedes-Benz CLA 45 AMG And GLA 45 AMG Facelifts Launched
This Story has not been edited by ABP News. It has been published through cardekho.com feed directly.