Nuts and Dolts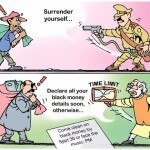 By:
Updated:
17 Jun 2016 02:54 PM
BJP MP Hukum Singh's claim that Hindu families have been leaving Kairana in Uttar Pradesh has raised a predictable storm. The Samajwadi Party Government and the local administration have claimed that there has been no exodus and all are living in peace, harmony and happiness. Where lies the truth?





Delhi Chief Minister Arvind Kejriwal sleeps, dreams, eats, breathes, speaks, tweets Modi. Rare is the occasion, if any at all, PM Narendra Modi has mentioned Arvind Kejriwal's name in public. Not so Kejriwal. He could well be on the way of a world record in taking Modi's name, that too in vain, the largest number of times. We are seeing a blame game by another name!