'Alex Hales was insulting Pakistan bowlers'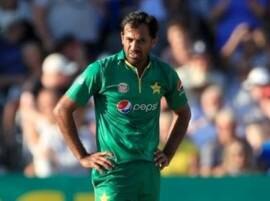 My mother says that I am more busy now than what I was before my cricketing retirement. She complains that she hardly gets to see me. Well, don't tell her but I too miss her a lot as I am constantly on the move. After my father's demise last year, I think she needs me more than my other siblings. But the cruelty of life is that as a professional I have to honour my commitments which keep me away from home. Most of my work brings me to India. I work as a cricket analyst in the media which means I stay in India for days and weeks at a stretch. Off late I have also forayed in the entertainment world as a judge for a comedy show.

The flip side to that is you travel the world and explore new places. In last month I have been to India, Dubai, the UK, Scotland, Norway and will now be going to Qatar and Bahrain for work. Different time zones, different cuisines, different weather, different hotels and different airports, all these are part of the package. But I must say one thing that India has got the best airports in the world. For a country as big as this they have some phenomenal infrastructure at the airports. Mumbai International Airport, Delhi's Terminal 3, Hyderabad, Kolkata, Chandigarh are all new additions but they beat even the best airports in the world. As an active cricketer when you a lose a game the worst thing that can happen is a delayed flight. In my days we didn't have much to engage in at the airports when the flights would be delayed. But now there are gaming zones, cafes, restaurants, shopping areas, spa centres, lounges to make the wait easy.

Pakistan lost their third straight One-day game to England. By the time you read this the team could be on M1 driving from Nottingham to Leeds for their next game. This trip takes about two hours but I can assure you that it would seem much longer than that as the loss meant the series is gone. Beyond a point I won't blame Pakistan for the loss in the third game as England was too good. I have played against the likes of Sehwags and Gilchrists and Jaysuriyas but Alex Hales was phenomenal at Trent Bridge. He was not batting but insulting the bowlers. I mean how do you explain 171 runs off 122 balls whatever be the size of the ground and state of the pitch. Such was the hitting by Hales that two hundred strike-rated 90 by Jos Butler paled off. Well played Alex!

Elsewhere in Greater Noida, the Indian cricket board welcomed pink ball in their fold. I haven't seen the game on TV as I was in the UK but what I read in the media the fast bowlers are complaining that the pink cherry is not reversing at all. I can understand the concern as the manufacturers may have put extra coat of pink lacquer to ensure the pink colour doesn't peel off. Besides the pitch used for Duleep Trophy games have been quite green. I think these two are primary reasons why the ball did not reverse. I am all for Day-Night games as the need of the hour is to generate interest in this format and night games are one of the ways to do that. Let us be patient about it as the entire scene is a work in progress.



Disclaimer: The opinions, beliefs and views expressed by the various authors and forum participants on this website are personal and do not reflect the opinions, beliefs and views of ABP News Network Pvt Ltd.