Automobile firms seek pep pill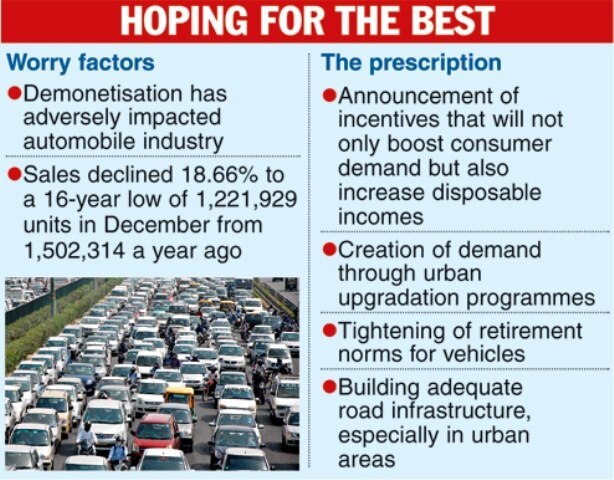 New Delhi: The automobile industry expects finance minister Arun Jaitley to provide incentives in the upcoming budget to boost consumer demand and increase disposable incomes, which could help jack up car sales.

"Demonetisation seems to be playing out in ways that were not quite expected. This issue will stay with us for a while, both in reality and in the minds of potential buyers of automobiles. In a situation like this, it is important to have the government facilitate demand," said Kumar Kandaswamy, partner at Deloitte Touche Tohmatsu India.

He said this could happen through both financial and non-financial methods.

"It is important to speed up the plan to implement urban bus corridors and have demand created through urban upgradation programmes. Tightening and implementing retirement norms for vehicles can support demand creation. Strengthening the framework by which the vehicle aggregation models flourish would enhance consumption in that segment.

"Demand could also be enhanced by building adequate road infrastructure, particularly in the urban areas," Kandaswamy said.

Automobile sales fell 18.66 per cent to 1,221,929 units in December to touch a 16-year-low from 1,502,314 a year ago.

The sales figure includes two- and three-wheelers along with passenger and commercial vehicles.

K.N. Radhakrishan, president and chief executive officer of TVS Motor Company, expects the government to "introduce balanced economic measures, which will enhance ease of doing business within the country, boost consumer demand and catalyse economic growth. Therefore, in our view, the finance ministry must minutely evaluate these crucial economic contributors and lay necessary thrust on each one of them to give further impetus to growth and enhance disposable incomes and boost spending."

Analysts and industry players said the sector would revive if major sops were announced in the budget to increase the purchasing power of consumers.

"The Union budget will undoubtedly be of great importance to the automobile industry. As 2016 was a shaky year for the automobile industry because of demonetisation, the industry is still trying to cope with the situation.

"The industry pins hopes on the budget to boost consumer sentiments. There are expectations that the government will take measures to boost disposable income," said Shubh Bansal, co-founder and chief of marketing & growth at Truebil - a virtual marketplace for pre-owned cars.