Budget Shikhar Sammelan Highlights: Revision in I-T slabs to help 85-90 percent people outside tax purview, says Piyush Goyal
ABP News organised Shikhar Sammelan where leaders from ruling and opposition parties spoke on the pros and cons of the Interim Budget where the NDA government announced a slew of benefits especially for farmers and the middle-class people of the country.
NSSO Unemployment data collection methodology is faulty and underwent a change for this year, needs to be looked into- GVL Narasimha Rao
Modi Govt promise of 10 crore jobs in 5 years is a sham, highly misleading for the citizens for the nation, says Manish Tewari
India's contribution to the world economy has gone up by 25 percent during BJP regime says G. V. L. Narasimha Rao
BJP takes wrong credit for Direct Benefit transfer scheme which was initiated by the Congress, says Manish Tewari
Modi Govt is not empathetic towards the dismal conditions of the farmers. Congress provided electricity to over 6 lakh villages in India so BJP hasn't done any wonders, says Congress' Manish Tewari
BJP confident of winning 400 seats in upcoming. PM Modi and his govt worked tirelessly for the people in the last five years says BJP's G. V. L. Narasimha Rao
BJP Govt does not have the right to present 6 budgets in 5 years, says Congress' Manish Tewari
BJP's G. V. L. Narasimha Rao and Congress' Manish Tewari join stage at ABP News Shikhar Sammelan with Rubika Liyaquat
If Congress government comes to power, the Minimum Income Guarantee Scheme will be implemented for those people who have been brought by the BJP on the brink of poverty : Priyanka Chaturvedi
Ram temple for BJP is not an electoral issue. Rajiv Gandhi was the one who started the politics of Ram's name: Sudhanshu Trivedi
Opposition against the farmers, offered heavy resistance to Govt's neem-coated urea proposal in parliament. Madhya Pradesh and Chhattisgarh were the pioneering states to implement crop insurance scheme, both states had BJP rule for very long time: Sudhanshu Trivedi
India overtaking China as fastest growing economy, Moody's upgraded our sovereign credit ratings reflects a robust economy. World Bank, IMF's growth projections for India's GDP reflect robust economic state: Sudhanshu Trivedi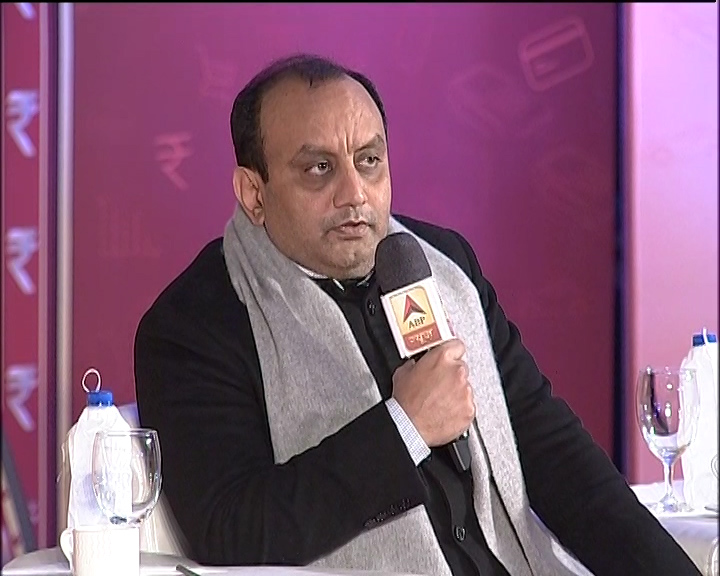 Modi govt taking wrong credit for zero balance Jan Dhan accounts, they were already open during UPA's regime. Unemployment rate at an all-time high, Farmers did not get Rs 15,000 in their account reflects dismal economic state, false promises under Modi Govt: Priyanka Chaturvedi
BJP's Sudhanshu Trivedi and Congress' Priyanka Chaturvedi joins the stage with Romana Isar Khan at ABP News Shikhar Sammelan.
Modi Govt announced the highest ever budget allocation to defence sector: Sudhanshu Trivedi
On Ayushman Bharat, Piyush Goyal says Modi government's healthcare scheme covers the middle income group citizens besides the poor. Modi govt envisages good quality preventive healthcare for each and every citizen. Preventive healthcare, wellness and Yoga takes centre stage in Modi government healthcare scheme
Piyush Goyal on NSSO unemployment data, Figures don't capture the economic measures undertaken by the Modi govt. The National Sample Survey Office's (NSSO) periodic labour force survey (PLFS) reportedly states that unemployment was last this high in 1972-73.
Income Tax measures announced in Interim Union Budget 2019 would help 90 percent of earning citizens to be outside the tax bracket: Piyush Goyal
BJP government has eradicated the rampant corruption which flourished under Congress regime. BJP brought down the average inflation rate of the nation to sustainable levels: Piyush Goyal
BJP inherited an economy from Congress which was in shambles, said Piyush Goyal on ABP Shikhar Sammelan
BJP govt announced MSP increase for farmers even before losing state assembly elections in Rajasthan and MP, so there is no Jumla as cited by opposition - Piyush Goyal
Speaking about the sops of Rs 6000 per year to farmers of the country, Goyal said that we have given a small tribute to the farmers of the country and it cannot be calculated by saying that its Rs 17 a day or anything as such.
From being one of 5 slowest growing economy, we have brought India to one of the fastest growing economy in a span of 5 years and the credit goes to PM Narendra Modi, says Piyush Goyal.
Once again welcome back to ABP Shikhar Sammelan and in a tete-a-tete with Sumit Awasthi is none other than Union Finance Minister Piyush Goyal. He started the interaction with speaking about the budget he presented on Feb 1.
Chitra Tripathi concludes her fierce session with BJP spokesperson Sambit Patra and Congress leader Gaurav Gogoi. We will be back shortly with another interesting session at ABP Shikhar Sammelan. Stay tuned!
Congress has reached to a level where to remove Prime Minister Narendra Modi they are self ready to self immolate, says Sambit Patra.
On Rami Mandir issue, Sambit Patra said that BJP stand with the construction of the temple and we have done and will do everything that it take to make it.
Sambit Patra on Rafale: Congress could not do anything on it for 10 years but under the leadership of PM Modi BJP sealed the deal in few time.
When questioned about Rahul Gandhi not getting benefit from Rafale controversy, Gogoi said that we won in 3 Hindi heartland states what more do we need.
Speaking about NSSO unemployment data, Sambit Patra said that the data has not been complied yet and we are working on it to make it public at the earliest possible. Ola and Uber expanded massively in India and it gave immense employment to people and many such startups have emerged.
BJP got massive mandate in 2014, had majority in Parliament and they could have done so much for this country. Look at the situation now. PM gave so many speeches but have brought India backwards. Demonetisation, unemployment data and lot of other facts say it all: Gaurav Gogoi
After elections Narendra Modi will not be able to continue with its foreign tours. BJP is scared and the selfie mode of PM Modi is coming to an end: Gaurav Gogoi, Congress
When Congress will come to power in 2019 general elections, we will announce more powerful and beneficial schemes for farmers of this country. Those schemes would be real and not fake like BJP: Gaurav Gogoi said in reply to Sambit Patra.
Congress has never did anything for farmers of the country in 70 years time. One side its Modi ka Josh and the other side Rahul Gandhi, Kharge Behosh: Sambit Patra
Giving a stern reply to BJP, Congress leader Gaurav Gogoi said that BJP got scared of losing the elections and thus they presented an election budget.
BJP spokesperson Sambit Patra started the session with hitting out at the Congress and said that those who are opposing Rs 17 per day given to farmers are the one who gave only Rs 5.
Starting our next session at ABP Shikhar Sammelan, we have on stage BJP spokesperson Sambit Patra and Congress leader from Assam Gaurav Gogoi.
02 Feb 2019, 12:43 PM IST
Sumit Awasthi concludes his interaction wtih Senior Advocate Kabil Sibal at ABP Shikhar Sammelan. Next to grace the conclave are Sambit Patra and Gaurav Gogoi. Stay tuned!
02 Feb 2019, 12:38 PM IST
When I was minister I never got a call from 10 Janpath (Congress headoffice) to get any work done. But none of the ministers have power in BJP government. In Congress every ministry used to work on its own: Nitin Gadkari
02 Feb 2019, 12:28 PM IST
Kapil Sibal during his interaction with Sumit Awasthi also said that BJP is diving the country in the name of Ram Mandir and other political issues. They are against elections, he added.
02 Feb 2019, 12:25 PM IST
Kabil Sibal says BJP will not even get 15 seats in Uttar Pradesh in Lok Sabha elections. He also said that we won in 3 states and will also win in General elections.
02 Feb 2019, 12:19 PM IST
Kapil Sibal says Artificial intelligence proposal of the government in job sector shall further lead to decline in jobs, unemployment already at all time high.
02 Feb 2019, 12:05 PM IST
They have cheated the farmers, middle class and every section of people living in this country. Rs 6,000 which BJP promised to give to farmers will have a value of around Rs 30 after 60 years.
02 Feb 2019, 12:04 PM IST
BJP said that they will present Interim Budget and presented a Full Budget and with that they have made bad announcements. They made fun of farmers by giving them Rs 17 a day, says Kapil Sibal.
02 Feb 2019, 12:02 PM IST
Senior Advocate joins the ABP Shikhar Sammelan with Sumit Awasthi to talk about Budget 2019 and the outcome of it.
02 Feb 2019, 11:48 AM IST
Neha Pant concludes her interaction with Civil Aviation Minister Jayant Sinha at ABP Shikhar Sammelan. Next to join us is Senior Advocate and Congress leader Kapil Sibal. Stay tuned!
02 Feb 2019, 11:46 AM IST
When Neha Pant asked How is the Josh and how much do you rate Budget 2019 to Jayant Sinha, the BJP leader said that JOSH IS HIGH and I give the Budget 400 points as abki baar 400 paar.
02 Feb 2019, 11:44 AM IST
When asked about declining Airlines sector by Neha Pant, Jayant Sinha said that situation has improved as crude oil prices have declined in the recent past and apart from that the government along with various banks are trying its best to revive the industry at the earliest possible.
02 Feb 2019, 11:42 AM IST
While speaking about Opposition grand alliance, Jayant Sinha said that one side its their corruption and other side is our honesty.
02 Feb 2019, 11:39 AM IST
I do not trust on surveys, says Jayant Sinha when asked about recent surveys which says no parties will get full majority in 2019 General Elections.
02 Feb 2019, 11:33 AM IST
Jayant Sinha at ABP Shikhar Sammelan: 2019 Interim Budget full of positive measures for salaried class via rebate in tax; increase in standard deduction, HRA, 80 C limit and gratuity.
02 Feb 2019, 11:32 AM IST
Could not do much as it was an Interim Budget, when BJP will return to power after 2019 Lok Sabha elections, we will announce more welfare schemes for the people of the country: Jayant Sinha
02 Feb 2019, 11:30 AM IST
When asked about the confusion in understanding tax annoucement, Jayant Sinha said that it was clearly mentioned during Piyush Goyal budget speech that it is a tax rebate and not tax exemption.
02 Feb 2019, 11:25 AM IST
Jayant Sinha on Shikhar Sammelan: Rahul Gandhi proposal of minimum income scheme is not practical and feasible in populous country like India.
02 Feb 2019, 11:17 AM IST
When asked about employment decline, Jayant Sinha said that if industry sectors, entrepreneurship is increasing in the country, it is obvious that the employment will also increase.
02 Feb 2019, 11:14 AM IST
A party gets vote on politics of development and that is what BJP has done, says Jayant Sinha adding that What Congress could not achieve in 60 years, BJP did it in 60 months.
02 Feb 2019, 11:10 AM IST
Interim Budget is not just a timely sixer but game changing clincher ahead of the Lok Sabha elections, says Jayant Sinha
02 Feb 2019, 11:09 AM IST
Civil Aviation Minister Jayant Sinha confident of winning in upcoming 2019 LS polls, reiterates the newly coined BJP campaign Slogan Aap Ki Baar 400 par.
02 Feb 2019, 11:06 AM IST
Another BJP leader Jayant Sinha join the ABP Shikhar Sammelan podium with Neha Pant. He is talking about the benefits people of India will get from the recently announced Budget by Modi government.
02 Feb 2019, 10:54 AM IST
Nitin Gadkari concludes his interaction at the ABP Shilhar Sammelan. Next to join us is Civil Aviation Minister Jayant Sinha. Stay tuned!
02 Feb 2019, 10:51 AM IST
Expressing surety of returning to power in Lok Sabha elections 2019, Nitin Gadkari said that the kind of Budget we presented and with what we have done over the span of 5 years, people will choose us with massive mandate and Narendra Modi will once again become the Prime Minister of the country.
02 Feb 2019, 10:48 AM IST
On Ram Mandir, Nitin Gadkari says matter is subjudice and the govt will honour the final verdict of the Supreme Court.
02 Feb 2019, 10:44 AM IST
Nitin Gadkari says that he maintains personal friendships with leaders of other parties outside the political spectrum
02 Feb 2019, 10:42 AM IST
When asked about Rahul Gandhi's comment that people of the country will conduct Surgical Strike on BJP, Gadkari said that no matter what we do, Rahul Gandhi will always dub it as misleading.
02 Feb 2019, 10:38 AM IST
On Congress' claim of Pradhan Mantri chor hai, Nitin Gadkari said that there has to be a boundary in politics. Abusing prime minister of the country is not right.
02 Feb 2019, 10:35 AM IST
Speaking at ABP Shikhar Sammelan, Nitin Gadkari claims that number of income tax payers have doubled in our regime.
02 Feb 2019, 10:30 AM IST
We have tried to benefit maximum number of people in our Budget. The only work of Congress is to oppose, not matter how good we do: Nitin Gadkari
02 Feb 2019, 10:27 AM IST
Nitin Gadkari denies allegation of presenting an unconstitutional budget on Feb 1. He said we have right to present the budget and that is what we did.
02 Feb 2019, 10:23 AM IST
No, I am not in the race of Prime Minister," When asked about Nitin Gadkari's possibility on becoming the Prime Minister of India.
02 Feb 2019, 10:21 AM IST
ABP Shikhar Sammelan starts with Union Minister Nitin Gadkari speaking about Budget presented by Modi government.
ABP Shikhar Sammelan: Finance Minister Piyush Goyal on Friday presented the much-awaited Interim Budget in Lok Sabha months ahead of General Elections 2019. The ruling Bharatiya Janata Party (BJP)-led NDA government announced a slew of benefits especially for farmers and the middle-class people of the country. In order to figure out the aftermath, ABP News organised Shikhar Sammelan where leaders from ruling and opposition parties participated and spoke out on the pros and cons of the Interim Budget. Union leaders including Union Minister for Road Transport & Highways Nitin Gadkari, Civil Aviation Minister Jayant Sinha, Congress leader Kapil Sibal and others shared their thoughts on positive and negative outcomes of the Budget announced by Modi government on February 1.

Here's the guest list of ABP News Shikhar Sammelan:

10:00 am: Nitin Gadkari (Union Minister for Road Transport & Highways)

11: 00 am: Jayant Sinha (Civil Aviation Minister)

12: 00 am: Kapil Sibal (Congress leader/ Senior Advocate)

01:00 am: Sambit Patra vs Pawan Kheda

04: 00 pm: Sudhanshu Trivedi vs Priyanka Chaturvedi

05:00 pm: GVL Narasimha Rao vs Manish Tiwari