Digital payment up by 55 percent, notes NITI Aayog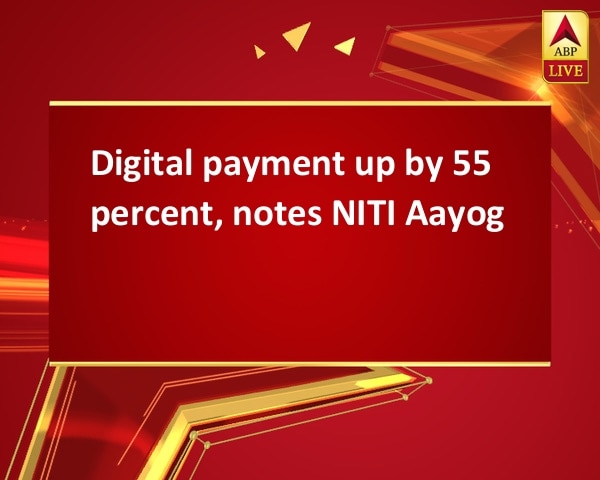 By:

ANI
Updated:
03 Jul 2017 06:50 PM
New Delhi [India], July 3 (ANI): An analysis of the current digital payments landscape in the country revealed that during the financial year 2016-17, there has been a 55 percent increase in digital payments, as revealed by Ratan P Watal, Principal Advisor, NITI Aayog and former finance secretary.
The booklet titled 'Measurement of Digital Payments - Trends, Issues and Challenges', also notes that the value of overall payments was around 13 to 14 times of the Gross Domestic Product (GDP) during the five-year period.
Further, the outstanding stock of currency in circulation, which hovered around 12 percent of the GDP during 2011-12 to 2015-16, declined to 8.8 percent during 2016-17, reflecting the impact of demonetisation partially offset by the ongoing remonetisation process.
Addressing a seminar on 'Digital Payments - Trends, Issues and Challenges' organised by the Federation of Indian Chambers of Commerce and Industry (FICCI) in collaboration with NITI Aayog, Watal said the retail payments segment accounted for as much as 98 to 99 percent of total volumes.
Of this, the share of paper clearing which formed over half the total volume in 2011-12, steadily dropped to 16 percent in 2015 -16 and further to 11 percent in 2016-17 with a corresponding increase in the combined share of electronic clearing and cards.
"These figures are truly reflective of the fact that India today stands at the cusp of a digital payments revolution through rapid penetration of digital payments infrastructure across the length and breadth of the country. Due to innovations in digital payment technologies and increasing consumer satisfaction, the growth trends in digital payments are positive and will continue to dominate the payments landscape in India. This dispels the doubts raised by some commentators regarding the growth of Digital Payments, subsequent to demonetisation,"said Watal.
The handbook recommends that digital payments data should be disseminated at a disaggregated level. Currently, data on digital payments is available only at an aggregate level, thus making it difficult to analyse the growth and effectiveness of individual digital payment technologies.
"We have proposed a classification for disaggregation - according to service provider, payment instruments, payment destination, user, value, area and so on. The NITI Aayog is working with the Reserve Bank of India towards data dissemination is such a metric format. Going forward, this is indeed a challenge but this will be extremely useful in policy making and analysis," said Watal.
Speaking about the government's plan to reach 25 billion digital transactions by March 2018, A.P. Hota, Managing Director and CEO-National Payments Corporation of India, said it was necessary that banks issue debit cards to their customers; enhance acceptance infrastructure, deploy POS, mPOS, Aadhaar Pay, QR code, Micro ATM; enable internet and mobile banking for all customers; incentivise electronic transactions and create awareness about digital payments.
Supporting this view, Sudhakar Ramasubramanian, Co-Chairman, FICCI Committee on Fintech and MD and CEO, Aditya Birla Idea Payments Bank Ltd., said though people had bank accounts, they still engaged in cash transactions; but demonetisation accelerated the pace of digital payments.
"With some standardisation in the systems, technology and available solutions could help in creating the last mile connectivity and bringing customers on board digital payments," he added. (ANI)
This story has not been edited. It has been published as provided by ANI