Scheme for direct cash subsidy on cooking gas modified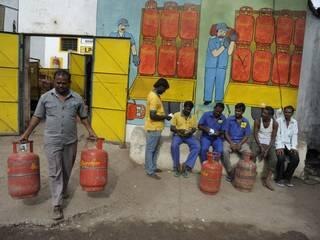 New Delhi: The petroleum ministry has modified the scheme for direct cash subsidy for consumers of cooking gas as per which it will be extended even to those who do not have an Aadhar card.

 

The scheme takes effect in 54 districts Saturday and the rest of the country from Jan 1.

 

"Consumers who had joined the scheme earlier and had received cash subsidy in their bank accounts do not need to do anything further. To confirm, they should check their cash transfer compliant status on www.MyLPG.in," an oil ministry statement said.

 

"Consumers who affirm that they do not have Aadhaar number, can receive cash directly in their bank account without producing Aadhaar. But as and when they get Aadhaar, they may have to shift to Aadhaar-based cash transfer," the statement said.

 

Consumers who are not compliant for cash transfer, will get a three month grace period, during which they will receive the cylinders at subsidised rates. After that, they will get an additional period of three month as parking period.

 

During the parking period, they will have to buy cylinders at market rates. Once they do join the scheme within the parking period, they will again be eligible for the subsidy, which will be transferred directly to their bank accounts.

 

This apart, there will also be a permanent advance deposited in the bank accounts of the eligible consumers, as soon as they make the first booking for a cylinder.

 

"This advance ensures that consumers have extra cash to pay for the first cylinder at market prices. The permanent advance will be notified for consumers, now joining the scheme, separately."

 

The 54 identified districts for the first phase of the modified scheme are spread over 11 states and will cover the scheme will cover some 23 million households. The Aadhaar coverage in these districts is 95 percent.

 

"The direct benefit transfer of gas scheme is designed to ensure that the benefit meant for the genuine domestic customer reaches them directly and is not diverted. It also ensures public money is saved," the oil ministry said.

 

As part of the revamp, consumers will receive SMS messages at every stage of enrolment in the scheme, for which they have to register their mobile phone numbers with their distributor.

 

"Customers who do not wish to avail the subsidy can choose to opt out of subsidy. They can register and exercise this option on www.MyLPG.in. Some 9,000 citizens have already voluntarily given up the subsidy, freeing up millions of funds for the less privileged."