Can't fight ABVP goons: AAP student wing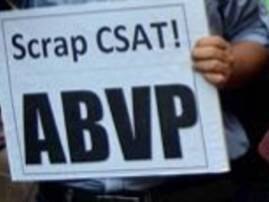 New Delhi: Aam Aadmi Party's (AAP) students' wing, Chhatra Yuva Sangharsha Samiti (CYSS), on Friday announced a boycott of Delhi University Students Union (DUSU) polls, saying most of its student supporters were 'intellectuals' and wouldn't be able to fight the 'goons' of the RSS's students wing ABVP.

"Most of our supporters are intellectual students; they can't fight the goons of ABVP (Akhil Bharatiya Vidyarthi Parishad) who bring rods and sticks to the campus in convoy of 250-300 cars during DUSU polls. Therefore, we have decided to boycott DUSU (Delhi University Students Union) polls", said CYSS Vice President, Anmol Panwar.

"Moreover, the university administration is not bothered about violations of poll code. They just want elections to get over somehow," he added.

The CYSS contested the DUSU polls last year but could not win a single seat.

Panwar said the decision to boycott the polls, slated for August, was taken after consulting the senior party leadership in the wake of alleged attacks on CYSS supporters during the ongoing admission process.

"In the past three-four days, ABVP people attacked our volunteers at different colleges who were helping in the admission process while the college security officials stood as mute spectators.

"Therefore we consulted the party leadership and they advised that till the time there is no mechanism to govern the elections, we should not contest," Panwar said.

The ABVP's media coordinator Saket Bahuguna maintained that CYSS was seeking publicity and would do a "u-turn" on its decision to boycott the polls.

"They are announcing this to seek publicity. I am confident that they would do a u-turn on their decision and contest DUSU polls this year," Bahuguna said.