UPSSSC Recruitment 2019: 672 Posts at upsssc.gov.in, Application Process begins 30th January 2019
UPSSSC Recruitment 2019: The selection of the candidates will be done on the basis of their performance in UP Combined Lower Subordinate Services Examination 2019 followed by an Interview.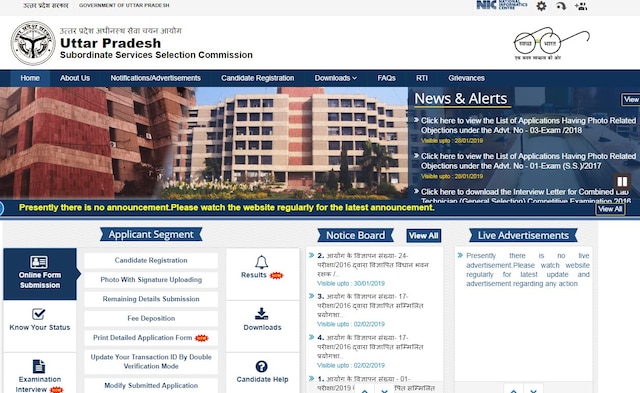 UPSSSC Recruitment 2019:
The Uttar Pradesh Subordinate Services Selection Commission is inviting applications at upsssc.gov.in for Combined Lower Subordinate Services Examination 2019 (Sammilit Avar Adhinastha Seva Pratiyogitatmak Pareeksha 2019) through which UPSSSC aims to fill 672 vacancies for various posts including Assistant Consolidation Officer/ Assistant Rectification Officer, Supply Inspector, Marketing Inspector, Assistant Garden Inspector and Additional District Information Officer, Executive Officer and Revenue Officer in different departments of the Government of Uttar Pradesh. As per advertisement number 01-Exams/2019, the application process is scheduled to begin on 30
th
January 2019, this week on the official website of UPSSSC. Interested candidates must submit their online application on or before 19
th
February 2019.
UPSSSC Recruitment 2019 - 
V
acancy Details:
Asst Consolidation Officer/ Asst Rectification Officer - 94


Supply Inspector - 151

Marketing Inspector - 194

Asst Garden Inspector - 89

Additional District Information Officer - 11

Executive Officer - 107

Revenue Officer – 26

Important Dates:

Online application process begins – 30th January 2019

Online application process ends – 19th February 2019

Eligibility Criteria:

The applicant must hold a Bachelor's degree from a recognized university. The desirable experience differs for the posts mentioned above, thereby, candidates must read through the official notification to ascertain their eligibility before applying.

Official Advertisement for UPSSSC Recruitment 2019

Age Limit:

For Asst Consolidation Officer/ Asst Rectification Officer/Supply/Inspector/Marketing Inspector/Asst Garden Inspector/Executive Officer/Revenue Officer posts, the applicant must fall in the age bracket of 21-40 years as on 1st July 2019.

For Additional District Information Officer the lower age limit is 18 years, while upper age limit is same as for other posts i.e. 40 years as on 1st July 2019.

Age Relaxation rules apply as stated in the advertisement above.

Selection Process:

The selection of the candidates will be done on the basis of their performance in UP Combined Lower Subordinate Services Examination 2019 followed by an Interview.

Pay Scale:

Asst Consolidation Officer/ Asst Rectification Officer – Rs.9300-34800 with Grade Pay Rs.4200, Level 6

Supply Inspector – Rs.9300-34800 with Grade Pay Rs.4200, Level 6

Marketing Inspector – Rs.9300-34800 with Grade Pay Rs.4200, Level 6

Asst Garden Inspector – Rs.5200-20200 with Grade Pay Rs.2400

Additional District Information Officer – Rs.5200-20200 with Grade Pay Rs.2800, Level 5

Executive Officer – Rs.5200-20200 with Grade Pay Rs.2800

Revenue Officer – Rs.5200-20200 with Grade Pay Rs.2800