2019 Lok Sabha polls, Phase 7: From Modi to Shatrughan Sinha, a look at key candidates in the fray
Lok Sabha Phase seven elections: Here are the top candidates in the fray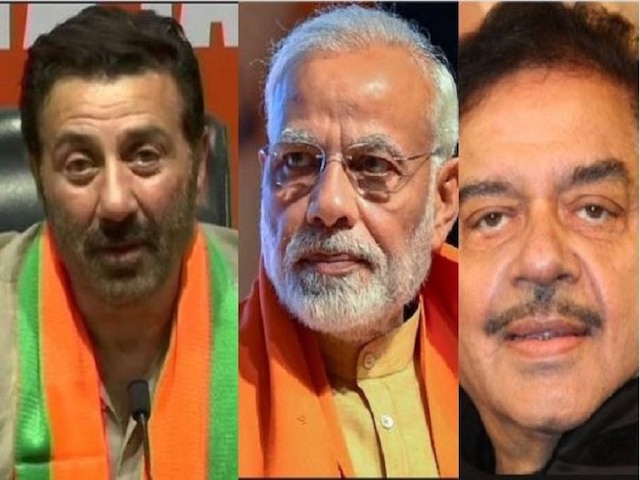 New Delhi: Polling for the mammoth Lok Sabha election process will finally wrap up as the seventh phase of voting will conclude today in the evening.  Polling will be held in 59 constituencies spread over seven states and one Union Territory, in the seventh phase of elections.

Polling will be held across 13 seats in Uttar Pradesh; all 13 in Punjab; nine in West Bengal; eight each in Bihar and Madhya Pradesh; all 4 constituencies in Himachal Pradesh; three in Jharkhand and the lone seat of Chandigarh. Counting of votes for all the seven phases will be taken up on the 23rd of this month.

Apart from the Prime Minister, there are many stalwarts whose fate shall be decided by the voters of the country in phase seven of the polls. Prominent among them are Shatrughan Sinha, Ravi Shankar Prasad, Meira Kumar, Upendra Kushwaha, Kirron kher, Sunny Deol, Sunil Jhakar, Manish Tewari, Sukhbir Singh Badal, Harsimrat Kaur Badal, Shibu Soren, and Manoj Sinha.

Here are the top candidates in the fray for Lok Sabha Phase seven elections:

Narendra Modi: It is after 15 years that any Prime Minister is contesting Lok Sabha elections. PM Modi is contesting from his constituency Varanasi, from where he registered a sweeping victory in the previous elections. Congress has fielded Ajay Rai, while SP has fielded Shalini Yadav against the PM.

The last PM who contested election was Atal Bihari Vajpayee in 2004 from Lucknow (Manmohan Singh did not contest Lok Sabha elections). PM Modi is also the eighth PM to be re-contesting from the same seat

Shatrughan Sinha: Bollywood actor-turned-politician Shatrughan Sinha, who has been associated with BJP for about three decades but quit the party last month and joined the Congress. He is for the first time contesting from the Congress party.

Ravi Shankar Prasad: Union law minister Ravi Shankar Prasad is pitched in a battle against Shatrughan Sinha from the Patna Sahib constituency.

Meira Kumar: UPA's presidential nominee for the 2017 election, and former Lok Sabha speaker Meira Kumar is contesting from Sasaram in Bihar. Againt Kumar, BJP's candidate is Chhedi Paswan.

Upendra Kushwaha: The former Minister of State for HRD in Government of India, Kushwaha is contesting as a candidate of the Grand Alliane will fight a battle of prestige against JD (U) leader Mahabali Singh in the Karakat constituency in Bihar.

Kirron Kher: Actor-turned-politican Kirron Kher is BJP's candidate from Chandigarh. Her rival for the ongoing election is Congress' Pawan Kumar Bansal.

Sunny Deol: Bollywood actor Sunny Deol who joned the BJP days before election is contesting for the Parliament from Gurdaspur constituency against Congress' Sunil Jakhar who is the sitting MP. AAP's Peter Masih Cheeda is also in the fray.

Manish Tewari: The former Union Minister of State (Independent charge), Minister of Information and Broadcasting is Congress' candidate from Anandpur Sahib, Punjab. He is pitched against SAD's Prem Singh Chandumajra and AAP's Narinder Singh Shergill

Sukhbir Singh badal and Harsimrat Kaur Badal: The wife-husband duo are contesting on SAD tickets from Bathinda and Firozpur respectively. They joined the four prominent wife-husband duo contesting in this elections (Others couples are: Dimple Yadav and Akhilesh Yadav (From same party - SP), Shatrughan Sinha (Congress) and Poonam Sinha (SP), Ranjeet Ranjan (Congress) and Pappu Yadav (Jan Adhikar Party)

Ravi Kishan: BJP has given ticket to Bhopuri actor Ravi Kishan from Gorakhpur. He will compete against Congress' Madhusudan Tripathi and SP's Ram Bhual Nishad.

Manoj Sinha: Sinha who is the current Minister of Communications (independent charge) and Minister of State (MoS), Railways in the Government of India, is contesting from his turf Ghazipur. He is pitched against Congress' Ajit Pratap Kushwaha and BSP's Afzal Ansari.

Shibu Soren:  Former CM of Jharkhand Shibu Soren will be contesting from Dumka hoping to win for the ninth time. He was first time elected in 1980, and since then, Soren has won from Dumka eight times and lost thrice.