ABP News Exit Poll 2019: BJP's Babul Supriyo to bite the dust in Asansol. Here's West Bengal's complete seat-wise projection
West Bengal has a total of 42 Lok Sabha seats, third highest after Uttar Pradesh 80 and Maharashtra's 48.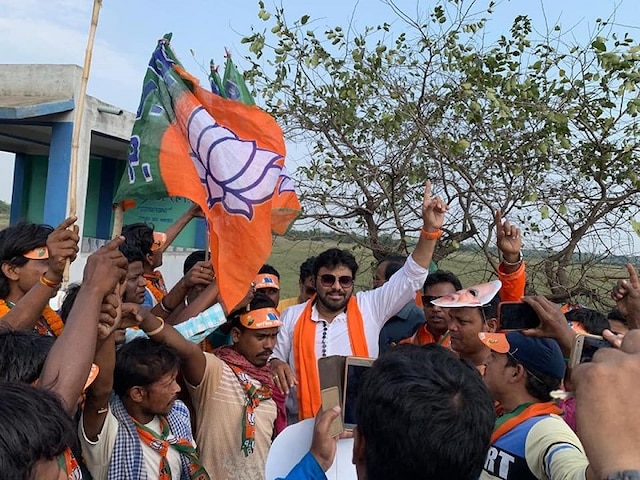 NEW DELHI: The BJP has taken giant strides and made major headway into the Trinamool Congress territory of West Bengal in 2019 Lok Sabha elections, according to an exit poll conducted by ABP News. The saffron party, which has been targeting West Bengal over the past couple of years, is slated to win 16 of the 42 seats in the state, adding 14 Lok Sabha constituencies to its tally of two achieved in 2014 Lok Sabha polls.
The TMC, which swept the 2014 general elections in the state by bagging 34 Lok Sabha seats, may be reduced to 24 seats. The Congress, which won four seats in 2014, may get only two seats,  the exit poll projected.
According to seat-wise projections in the state
, Union Minister Babul Supriyo is likely to be vanquished by his
TMC rival Moon Moon Sen
from Asansol. Sitting Member of Parliament Mamtaz Sanghamita of the Trinamool Congress may taste success by defeating Bharatiya Janata Party (BJP) stalwart SS Ahluwalia  from Burdwan-Durgapur Lok Sabha constituency. TMC's Khalilur Rehman is projected to trounce Congress's Abhijeet Mukherjee in Jangipur.



#ABPExitPoll2019: West Bengal Lok Sabha seat projection: BJP+ - 16, TMC - 24, Cong+ - 2 , Left - 0
TMC's Kalyan Banerjee likely to win from Serampore LS constituency
TMC's Mala Roy may win from Kolkata South seat
BJP's Medinipur candidate Dilip Ghosh is tipped to win pic.twitter.com/gUrLIAs5CH


— ABP News (@abpnewstv) May 20, 2019


Key takeaways:

The state, which has witnessed the bitterest electioneering this time between the TMC and the BJP, went to polls in all seven phases. The BJP had gone all out to make electoral gains in West Bengal, with Prime Minister Narendra Modi himself holding several rallies. Party chief Amit Shah has also addressed many public meetings besides holding road shows in the state.

The state has witnessed the most bitter election campaign this time, which was accompanied by violence during all the six phases of polling.

The latest episode of violence was witnessed during a road show of Amit Shah, with the statue of Ishwar Chandra Bandyopadhyay, an icon of West Bengal, being vandalised.



In view of the violence, the Election Commission (EC) took an unprecedented step of curtailing poll campaign in the state by a day as it ordered stoppage of poll campaigning from 10 p.m. on Thursday in the nine Lok Sabha constituencies.

Chief Minister Mamata Banerjee has been a trenchant critic of the BJP and the Narendra Modi-Amit Shah duo during the course of the national polls. On Sunday, she  dismissed exit poll results in a tweet saying: "I don't trust Exit Poll gossip. The game plan is to manipulate or replace thousands of EVMs through this gossip. I appeal to all Opposition parties to be united, strong and bold. We will fight this battle together," the West Bengal CM tweeted.




#ABPExitPoll2019: West Bengal (42 seats)


Burdwan-Durgapur:
Win - Sitting MP Mamtaz Sanghamita of TMC
Lose - BJP stalwart SS Ahluwalia

Raiganj:
Win: TMC's MLA Kanhaia Lal Agarwal
Lose: Congress' Deepadas Munshi

Malda North:
Win: BJP's Khagen Murmu
Lose: TMC's Mausam Noor pic.twitter.com/Crk6Rdr50m

— ABP News (@abpnewstv) May 20, 2019



ABP Exit Poll 2019 - Below is the complete West Bengal's seat-wise projection:

Asansol:

Win - TMC's Moon Moon Sen

Lose - BJP's Babul Supriyo

Burdwan-Durgapur:

Win - Sitting Member of Parliament Mamtaz Sanghamita of the Trinamool Congress

Lose - Bharatiya Janata Party (BJP) stalwart SS Ahluwalia

Raiganj:

Win: TMC's MLA Kanhaia Lal Agarwal

Lose: Congress' Deepadas Munshi

Malda North:

Win: BJP's Khagen Murmu

Lose: TMC's Mausam Noor

Jangipur:

Win: TMC's Khalilur Rehman

Lose: Congress's Abhijeet Mukherjee

Barrackpore:

Win: Dinesh Trivedi win

Serampore:

Win: Kalyan Banerjee, TMC

Hooghly:

Win: Locket Chatterjee, BJP

Ghatal:

Lose: BJP's Bharti Ghosh

Medinipur:

Win: Dileep Ghosh, BJP

Diamond Harbour:

Win: Abhishek Banerjee, TMC

Jadhavpur:

Win: TMC's Mimi Chakraborty

Kolkata South:

Lose: BJP's CK Bose

Kolkata North:

Lose: BJP's Rahul Sinha



Cooch Behar - BJP


Alipurduar - BJP


Jalpaiguri – TMC


Darjeeling - BJP


Balurghat - BJP


Maldaha Dakshin - Congress


Baharampur -    Congress


Murshidabad - BJP


Bangaon -   TMC


Krishnanagar - TMC


Ranaghat - BJP


Dum Dum - TMC


Barasat – TMC


Basirhat - TMC


Jaynagar - TMC


Mathurapur - TMC


Howrah -           BJP


Uluberia - TMC


Arambag - BJP


Tamluk - TMC


Kanthi - TMC


Jhargram – BJP


Purulia - BJP


Bankura – BJP


Bishnupur - BJP


Bardhaman Purba - BJP


Bolpur – TMC


Birbhum – TMC