WATCH VIDEO: Congress leader Hardik Patel slapped during rally in Gujarat; BJP blamed
Earlier on Thursday, Hardik Patel had to cancel his helicopter ride to Lunawada in Mahisagar district of Gujarat at the last moment after the farmer on whose field the chopper was to land did not give his nod for its use as a helipad.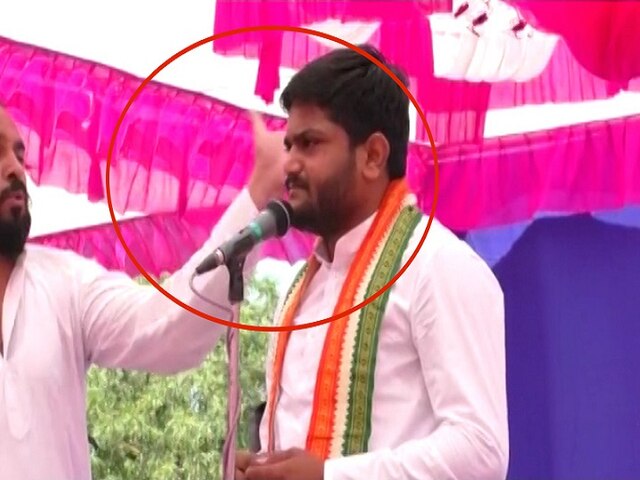 Ahmedabad
: Congress leader Hardik Patel was slapped during a public rally in Gujrata. The incident happened in Surendranagar where he was addressing a public rally.  In the video of the incident, a man dressed in white kurta could be seen walking on the stage and slapping Patel.
It is reported that the police later arrested that man who had slapped Patel.



#LokSabhaElections2019: Congress leader Hardik Patel slapped during a public rally in Gujarat's #Surendranagar


LIVE: https://t.co/DklVA2kRqn pic.twitter.com/rdeEhkuWVG

— ABP News (@abpnewstv) April 19, 2019


Hardik later too on Twitter and said ' I was attacked by the BJP during the meeting during a rally.'-




सुरेन्द्रनगर लोकसभा क्षेत्र के वढवान विधानसभा के बारह गाँव के प्रमुख लोगों को संबोधित किया। सभा के दौरान भाजपा के द्वारा मुझ पर हमला किया.मुझे मालूम है की आज सिर्फ़ थप्पड़ मारने का प्रयास हुआ है लेकिन कल भाजपा मुझे गोली मरवाएगी।हम किसान और नौजवानों की आवाज़ उठाते हैं।जय हिंद pic.twitter.com/SzmT6LSByp


— Hardik Patel (@HardikPatel_) April 19, 2019



Earlier on Thursday, Hardik Patel had to cancel his helicopter ride to Lunawada in Mahisagar district of Gujarat at the last moment after the farmer on whose field the chopper was to land did not give his nod for its use as a helipad.

Hardik Patel had to later travel by road to Lunawada, around 100km from here, to address an election rally.

The 25-year-old, who led the Patidar reservation stir in Gujarat since 2015 and joined the Congress last month, has emerged as a star campaigner for the opposition party, crisscrossing the state in a helicopter to address poll rallies.

Watch Video: