If he went to Sri Lanka, would have claimed 'he killed Ravana': Ajit Singh on PM Modi
Singh further made a controversial remark saying, "If we need a chowkidaar, we will get from Nepal, but we need a Prime Minister."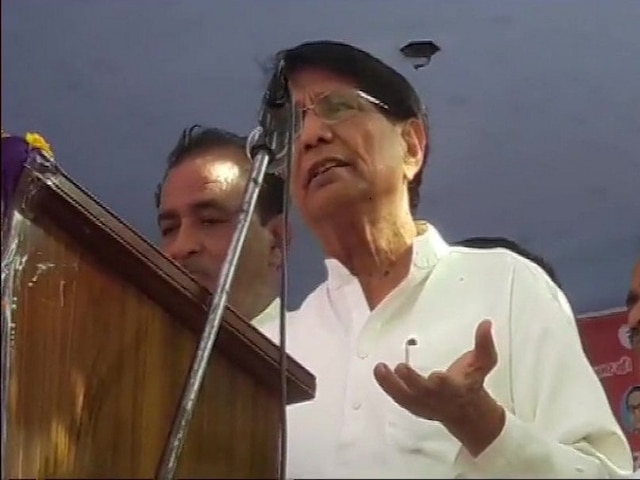 New Delhi: Rashtriya Lok Dal (RLD) Chief Chaudhary Ajit Singh hit out at PM Modi on his achievements of last 5 years; while addressing a public gathering on Wednesday. Taking on Modi, Ajit Singh claimed that PM Modi likes to take credit for everything.
"This guy is so clever and cunning that if he goes to Sri Lanka, after returning he would have claimed that I killed Ravana; because no one else has done anything in the country".
"This man (PM Modi) wears caps, which are not the ones you wear. He gets caps from I don't know where and then has the audacity to say 'I am a beggar'. If he is a beggar then I pray to God that I be made a beggar too..." RLD boss said.


The leader further lashed out at PM and said "He doesn't lie, it's just he has never spoken the truth in his life. He tells children that one must speak the truth, haven't your parents taught you. He favours women, and keeps talking about Triple talaq, but left his own wife without saying Talaq even once"






#WATCH RLD Chief Ajit Singh on PM Modi: Ye jhoot nahi bolta..bas isne aaj tak sach nahi bola.Bacchon ko kehte hain sach bola kar,lekin iske Ma baap ne nahi sikhaya.Mahilaon ka pakshdhar hai,teen talaq teen talaq..apni patni ko ek baar bhi talaq nahi bola aur chhod diya (3.4.19) pic.twitter.com/K6kDMcKcmN


— ANI UP (@ANINewsUP) April 4, 2019



Singh further made a controversial remark saying, "If we need a chowkidaar, we will get from Nepal, but we need a Prime Minister."

Singh has shook hands with Mayawati and Akhilesh and is a part of UP Mahagathbandhan.