'Will re-design MGNREGA': Cong releases manifesto, promises to increase employment days to 150
Rahul Gandhi said "PM Narendra Modi had spoken about MGNREGA. He mocked and said it is a bogus and useless scheme. Today everyone knows how much it helped the country. So now we want to guarantee jobs for 150 days, instead of 100 days, under the scheme."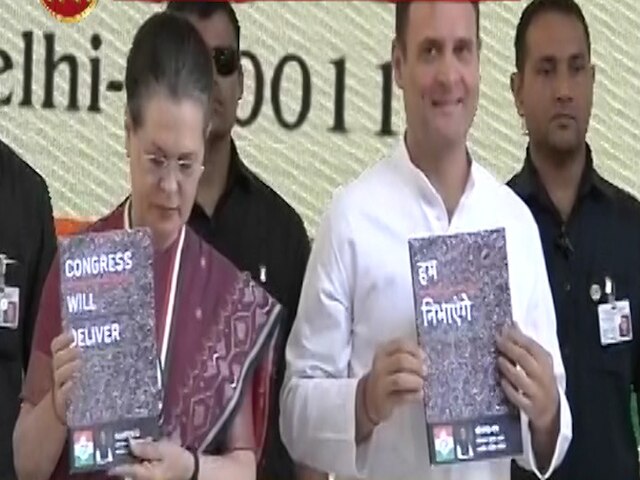 NEW DELHI:
Congress party on Tuesday released its manifesto titled 'Congress will deliver' for the Lok Sabha elections. During the manifesto release, party president announced that under MGNREGA, they will guarantee jobs for 150 days instead of 100 days.
Rahul Gandhi said "PM Narendra Modi had spoken about MGNREGA. He mocked and said it is a bogus and useless scheme. Today everyone knows how much it helped the country. So now we want to guarantee jobs for 150 days, instead of 100 days, under the scheme."



Congress president @RahulGandhi promises to increase employment days to 150 from 100 under MNREGA and Separate Budget for Framers.


— Sangita Tewari (@sangitatewari) April 2, 2019
MGNREGA, a rural job guarantee scheme introduced in 2005, now covers all the rural districts of the country. The main objective of the scheme involves providing up to 100 days of unskilled manual work in a financial year to every household in rural areas as per demand, resulting in creation of productive assets.


In its manifesto, Congress said :

We will launch MGNREGA 3.0 to address issues of water security, soil quality and similar issues that aggravate farmers' distress. To this end, we will:



Increase the guaranteed days of employment up to 150 days in cases where 100 days have been achieved in a block/district;


Use MGNREGA labour in the Waterbodies Restoration Mission and the Wasteland Regeneration Mission; and


Use MGNREGA funds to build public assets such as primary health centres, classrooms, libraries etc.



Earlier, news agency PTI reported that the wages paid under the Mahatma Gandhi National Rural Employment Guarantee Act (MGNREGA) are linked with the Consumer Price Index for agricultural labourers (CPI-AL) and new wage rates are notified on April 1, the beginning of the new financial year.

The ministry had approached the EC for approval as the model code for the coming Lok Sabha polls is in force.

Different states have different wage rates so the increase in wages will also be different. The wages may remain flat in some states, while the increase could be up to 5 per cent over and above the current wage in others.

The government in this year's Interim Budget had proposed to allocate Rs 60,000 crore for rural employment scheme under the MGNREGA for 2019-20.