Lok Sabha election results: Party chief Amit Shah reacts as BJP heads for historic win
With the BJP heading for a thumping majority in the Lok Sabha polls, party president Amit Shah on Thursday congratulated party workers for working hard in securing "historic victory".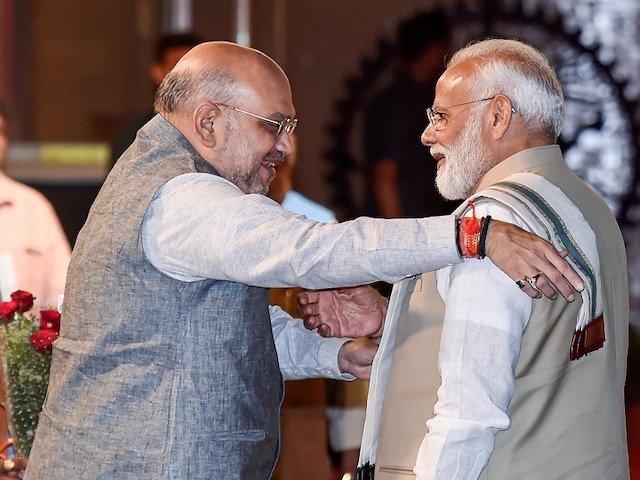 NEW DELHI: BJP president Amit Shah Thursday hailed the BJP's superb showing in the Lok Sabha polls as "victory of India" and said it is people's mandate against the Opposition's propaganda and personal attacks as well as their total rejection of politics of dynasty, appeasement and casteism.
In a series of tweets, Shah said this victory is a "win of people's confidence in Prime Minister Narendra Modi".

"Today's result is India's mandate against Opposition's propaganda, lies, personal insinuations and baseless politics. It is also people's mandate who have chosen development and nationalism and rejected casteism, dynasty and appeasement," Shah said.

Asserting that this win is a victory for the whole of India, he said, "It is the victory of the hopes of youth, the poor and farmers. This grand victory is a triumph of people's confidence in Prime Minister Narendra Modi's development work and strong leadership."

Conveying his greetings to party workers on behalf of Prime Minister Modi, Shah said it was the relentless efforts of the party workers which strengthened the BJP at every booth of the country.

Senior BJP leaders and NDA partners credited Prime Minister Narendra Modi and Amit Shah for the victory described by many as a "tsunami".

Riding on a massive Modi wave sweeping through most parts of India, the BJP was set to return to power Thursday as it led in over 300 seats while the Congress trailed far behind with 52, according to trends released by the Election Commission for all 542 seats that went to polls.

Senior ministers Rajnath Singh, Sushma Swaraj, Suresh Prabhu and Ramvilas Paswan were among those who credited Modi for the stupendous electoral triumph.

In a series of tweets, Singh said, "Spoke to Prime Minister Shri @narendramodi and the BJP National President Shri Amit Shah over the phone and congratulated them for BJP4India led NDA's stupendous victory in these Lok Sabha Elections.

"This historic victory in the General Elections is the outcome of Modiji's visionary leadership, Amit Shahji's dynamism and the hard work of millions of BJP karyakartas on the ground," he said, adding Modi is now all set to build a New India.

"It is not an election but Modi tsunami. I heartily congratulate Narendra Modi," Consumer Affairs Minister and Lok Janshakti Party Ram Vilas Paswan said in a tweet.

His ministerial colleague, the BJP's Suresh Prabhu, also likened the win to a tsunami. "It's nothing short of a landslide, a political tsunami sweeping entire country, east or west, BJP is the best, is a reality. North to south people have voted for a clear, unambiguous choice... country must progress further under the leadership of Narendra Modi... ," Prabhu said in a tweet.

"Election results clear vote for performance, vision, leadership, huge outreach, charisma, non stop-24/7 hard work, service to nation by Narendra Modi," he added.

Another minister Rajayavardhan Singh Rathore said,"My salute to the untiring workers of BJP and Jaipur rural, this is their service to the nation."

If the trends stay until final results, the BJP would have improved on its 2014 performance when it had won 282 seats on its own in the 543-member Lok Sabha. Adding the seats won by its allies, the BJP-led National Democratic Alliance could win 343 seats, up from 336 in 2014.