Lok Sabha elections: 95 seats set for polls on Thursday; Major issues, key facts & figures and more
Polling will be held in 38 seats in Tamil Nadu, 14 seats in Karnataka, 10 in Maharashtra, eight in Uttar Pradesh, five each in Assam, Bihar and Odisha, three each in Chhattisgarh and West Bengal, two in Jammu and Kashmir and one seat each in Manipur and Puducherry.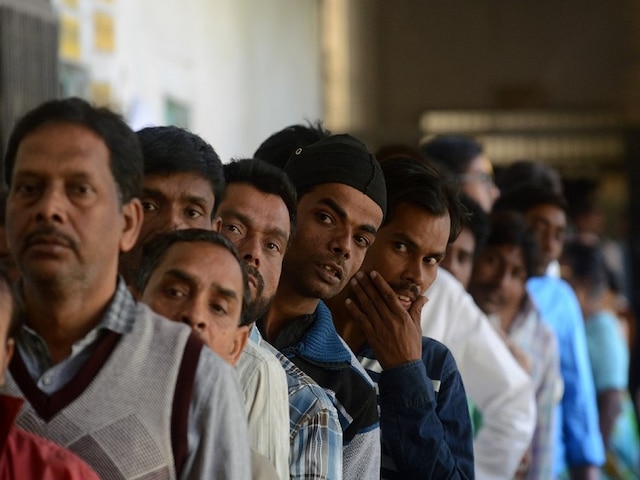 NEW DELHI: The high decibel campaign by political parties for the second phase of the ongoing Lok Sabha elections has ended on Tuesday. 95 Lok Sabha constituencies spread over 13 states and Union Territories which will go to the polls on Thursday in the second phase of the seven-phase general elections.
Lok Sabha election to the Vellore constituency was cancelled on Tuesday following recovery of huge amount of cash allegedly from a DMK candidate's office a few days ago. Also, election was scheduled to be held in one seat in Tripura but the Election Commission in a late night order postponed polling till April 23 citing law and order situation.
Polling will be held in the 95 constituencies of Tamil Nadu, Karnataka, Maharashtra, Uttar Pradesh, Assam, Bihar, Odisha, Chhattisgarh, West Bengal, Jammu and Kashmir, Manipur and Puducherry.


In the first phase, voting will take place in 38 seats in Tamil Nadu. It will also cover 14 seats in Karnataka, 10 in Maharashtra, eight in Uttar Pradesh, five each in Bihar and Odisha, and three each in Chhattisgarh and West Bengal.

The electorate in five Assam constituencies, two Jammu and Kashmir constituencies, and one constituency each in Manipur and Puducherry, would also cast their votes in this phase.




The seven-phase Lok Sabha elections started on April 11 and would conclude on May 19. Counting of votes will take place on May 23. The subsequent polling dates are April 23 (115), April 29 (71), May 6 (51), May 12 (59) and May 19 (59).

Around 15.79 crore voters, which is equivalent to the population of Bangladesh, will be eligible to cast their votes in the second phase.

In 2014, the AIAMDK, under its chief J Jayalalithaa, had won 36 out of the 95 seats set to go to polls in the second phase. The BJP secured 27 and the Congress 12.

Among these 95 constituencies, the BJP has never won 53 seats since its inception in 1980. In Tamil Nadu, the saffron party has never been able to win 34 out of the 38 seats.

Winner in 2014: 95 seats in the 2nd phase

BJP – 27 seats
Congress – 12 seats
AIADMK – 37 seats
Shiv Sena – 4 seats
BJD – 4 seats
CPM – 1 seats
JDS – 2 seats
RJD – 2 seats
JDU – 1 seat
NCP – 1 seat
PDP – 1 seat
PMK – 1 seat
Trinamool – 1 seat
AINRC – 1 seat
AIUDF – 1 seat

Uttar Pradesh



BJP is taking on the SP-BSP-RLD combine.


Mathura and Fatehpur Sikri will be guided by the 'Bollywood' factor.


BJP has reposed faith in 'dream girl' Hema Malini in Mathura, actor-turned-politician; Congress UP chief Raj Babbar is in fray from the historical city of Fatehpur Sikri.


Nagina (40 percent) and Amroha (35 percent) have a strong presence of the minority community.


Aligarh with a strong combination of upper-caste Hindus, non-Yadav OBCs and Dalits


In Both Mathura and Fatehpur Sikri, upper caste Hindu is around 30 per cent making a strong BJP clout


Bihar


BJP hadn't won any of the five seats in the second phase in 2014.


Tariq Anwar eyes Katihar seat for sixth time. Katihar - Muslims constituted 40 per cent, followed by Yadavs (11 per cent), OBCs and  and EBCs (35 per cent), upper castes (5 percent) and others (5 percent).


Kishanganj, where Muslims account for 70 per cent of the population, is one of the poorest districts in India


Tamil Nadu


First time Lok Sabha elections in the state, without two stalwarts of Tamil Nadu politics – Jayalalithaa of AIADMK and M. Karunanidhi of DMK.


This has given national parties such as the Bharatiya Janata Party hope of making inroads in the state.


This election will indicate how the two major Dravidian parties will fare after the death of their biggest leaders.


Main contest – AIADMK led alliance where BJP is junior partner vs. DMK led alliance where Congress is junior partner.


Elections will also take place in 18 assembly seats whose legislators were disqualified by the speaker - for switching camps from the ruling AIADMK to the rebel TTV Dhinakaran-led AMMK party.


Issues - severe shortage of water, rising farm distress, caste issues, increasing unemployment.


West Bengal


Multi-polar contest in the state. Three competitors for anti-AITC votes in West Bengal: BJP, Left Front and Congress.


About 20.6 lakh first-time voters in Bengal, highest in India.


Issues - Illegal migration from Bangladesh is also a polarising issue in the state, Citizenship bill, fake currency and cow smuggling.


Maharashtra


Main contest is between BJP-Shiv Sena alliance and Congress-NCP led alliance.


Prakash Ambedkar, the grandson of Dr Babasaheb Ambedkar, is contesting the upcoming Lok Sabha election from Solapur and Akola constituencies in Maharashtra as a candidate of Vanchit Bahujan Aghadi (VBA) - an alliance of Ambedkar-led Bharip Bahujan Mahasangh and Asaduddin Owaisi's AIMIM.


Nanded constituency has Marathas, Lingayats, Dalits and also a sizable number of Muslim voters. It is stronghold of Chavan family of Congress party.


Maratha community is stronger in Beed Lok Sabha constituency.


Issues - Farm distress, water shortage, cotton farmers crisis, Maratha reservation, joblessness.


Karnataka


Karnataka which has always been a pocket borough of the Congress party for several decades has in the last few elections tilted towards the BJP with the party winning 17 of the 28 seats in 2014.


Direct challenge between the Congress-JDS combine and the BJP.


There is no perceptible wave in favour of any political party.


BJP enjoys considerable edge because of two factors: differences within the Congress party and the conflict of interests between the grassroots level workers of the Congress and the JDS.


Odisha


The ruling BJD is expected to face tough challenge from the opposition as historically the four Lok Sabha constituencies of Bargarh, Balangir, Kandhamal and Aska have patches where the support base of Congress and BJP is very strong.


35 assembly segments will also go to the polls in the second phase (BJD – 24 seats, Congress – 6, BJP – 4 and CPM – 1 seat).


Chief Minister and BJD supremo Naveen Patnaik is contesting will go to polls in assembly constituencies, Hinjili and Bijepur



Number of rallies by main national leaders (restricted to second phase)

Narendra Modi – 20 rallies (11 states)

Rahul Gandhi – 17 rallies (9 states)

Amit Shah – 13 rallies and 3 road shows (10 states)

Yogi Adityanath – 14 rallies (4 states)

Priyanka Gandhi – 1 rally and 1 road show (2 states)

Akhilesh Yadav – 3 rallies in UP