Lok Sabha elections: Another jolt to AAP, MLA Devinder Sehrawat joins BJP
AAP MLA Devinder Singh Sehrawat joined the BJP on Monday, the second legislator to quit the party and join the saffron fold in less than a week.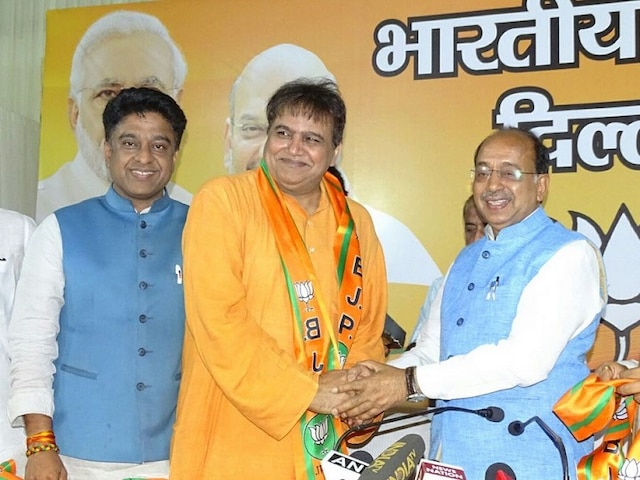 NEW DELHI: Aam Aadmi Party MLA Devinder Sehrawat joined the Bharatiya Janata Party on Monday. Sehrawat is the second legislator to quit the Delhi's ruling party and join the saffron fold in less than a week. Sehrawat, the party's legislator from Bijwasan, joined the party in the presence of Union Minister Vijay Goel. Leader of Opposition Vijender Gupta was also present during the press conference held at the party's city unit office.

This comes days after AAP leader and Delhi Deputy Chief Minister Manish Sisodia alleged that seven of his party MLAs in the national capital have been offered Rs 10 crore each to join the saffron party.

On Friday, Anil Bajpai, AAP MLA from Delhi's Gandhi Nagar constituency, joined the BJP.

Sehrawat accused the AAP of "ignoring" and "cornering" him saying that he was not even invited to party functions.

"The party insulted me, but I took it in my stride and continued working for the development of my area," PTI quoted Sehrawat as saying.

"My people said 'we have elected you to work for us' and supported my decision to quit the AAP. I have joined the BJP considering the respect India got under the leadership of Prime Minister Narendra Modi," he said.

Union Minister Vijay Goel said the BJP was interested in inducting Sehrawat into the party even before he had joined the AAP.

"The party (AAP) would ignore Sehrawat and not even invite him to events in the area. When he felt he's being insulted, the legislator decided to join the BJP," Goel said.

Kejriwal tried putting pressure on Sehrawat when he got to know of his decision to leave the "sinking ship" of the AAP, he alleged.

The BJP has kept its door open for all those who are feeling insulted in the AAP, the Union minister said.

BJP leader Vijendra Gupta said, "Kejriwal tried to conspire against Sehrawat, sidelined him...He is being made to pay for opposing the party's decision to oust Yogendra Yadav and Prashant Bhusan."

Delhi is witnessing a triangular fight involving the Congress, the BJP and the AAP in this Lok Sabha election. All seven seats in the city will go to polls in the sixth phase on May 12.

The BJP had won all the seven seats from the national capital in 2014.