Lok Sabha elections: Sadhvi Pragya Thakur breaks down in tears alleging torture by jail officials
BJP has fielded Malegaon blast case accused Sadhvi Pragya Singh Thakur in Lok Sabha elections from Bhopal against Congress heavyweight and former Madhya Pradesh chief minister Digvijay Singh.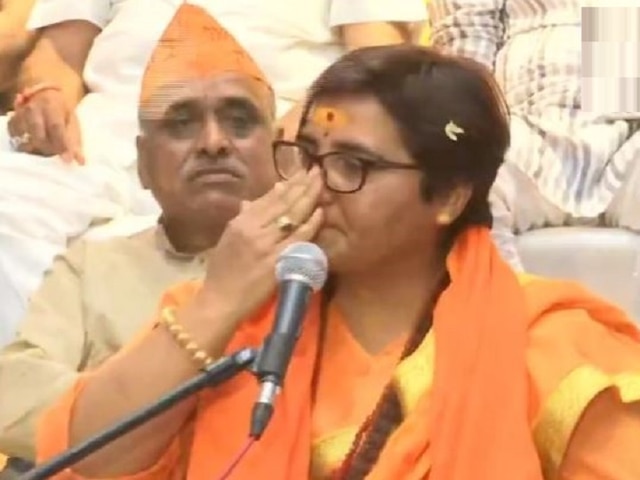 BHOPAL: BJP candidate from Madhya Pradesh's Bhopal parliamentary constituency, Sadhvi Pragya Singh Thakur on Thursday claimed she was tortured "day and night" by jail officials during police custody. She alleged she was kept in "illegal" custody for 13 days during an interrogation, where she was "beaten up brutally" and "pressurised" to confess to false charges against her.
Thakur, who was addressing party workers here, broke down in tears and claimed she was verbally abused by the cops.



#WATCH: Alleging torture by jail officials, Sadhvi Pragya Singh Thakur, BJP Lok Sabha candidate from Bhopal, breaks down while addressing the party workers pic.twitter.com/UVUomvmJZ2


— ANI (@ANI) April 18, 2019
Thakur, an accused in the 2008 Malegaon blasts case, was on Wednesday fielded by the BJP from Bhopal Lok Sabha seat against Congress heavyweight and former Madhya Pradesh chief minister Digvijay Singh.


Out on bail, Thakur has been discharged by a court on charges under the stringent Maharashtra Control of Organised Crime Act (MCOCA) in the 2008 case, but is still facing trial under other criminal provisions including the Unlawful Activities (Prevention) Act.

The BJP's choice of the 48-year-old saffron activist underlines its efforts to corner the Congress as its top leaders, including Prime Minister Narendra Modi and party chief Amit Shah, have often accused the opposition party of coining the "Hindu terror" phrase and slapping "false" terror cases on Hindutva activists when the UPA was in power.

Digvijay Singh has been a bitter critic of the Rashtriya Swayamsewak Sangh (RSS), the ideological guide of the BJP, and had allegedly linked it to 2008 Mumbai terror attack carried out by Pakistani terrorists.

Thakur was in jail for nine years in this case and is presently out on bail.