Apple iOS 11.2 Beta 3 with control center pop-up for Wi-Fi, Bluetooth
Now, in order to completely turn off Bluetooth or Wi-Fi, users must look into the settings app in iOS or enable airplane mode in control center or via settings.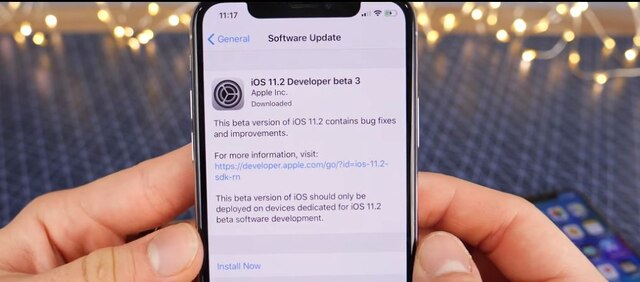 New Delhi:
Appel's third developer beta was released on Monday for iPhone and iPad and many minute changes can be seen in the interface. In the Apple iOS 11.2 Beta 3, as you wake up the screen, a bar underneath the control center area can be seen. This is now the new control center grab bar.
Apple pay cash has been activated where you also get to see a very cool holographic card. Now, if you get a request for money in a message, the text bar also shows an option of paying through the Apple Pay Cash. Calculator bug caused by slow animation is now fixed in this update.
After installing the update,


If users who disable Wi-Fi or Bluetooth via Control Center are met with a prompt. For Wi-Fi, it reads:
"Disconnecting Nearby Wi-Fi Until Tomorrow. The current Wi-Fi network and others nearby will be disconnected until tomorrow. Wi-Fi will continue to be available for AirDrop, Personal Hotspot, and location accuracy."


When Bluetooth is switched in Control Center, iOS 11.2 states:
"Disconnecting Bluetooth Accessories Until Tomorrow. Currently Connected accessories will be disconnected and other accessories will not connect. Bluetooth will continue to be available for Apple Watch, Apple Pencil, Personal Hotspot, and Handoff."


So, in order to completely turn off Bluetooth or Wi-Fi, users must look into the Settings app in iOS, or enable Airplane Mode in Control Center or via Settings.
According to reports, the cold weather bug has now been fixed in this beta version.
In order to get grab the 11.2 public beta, you will have to go to Apple's Beta Software Program page, then you have to Enroll your iOS device. To download and install a configuration profile, you will be instructed to go to  beta.apple.com/profile on the iOS device that you want to put the beta version. That will make the beta available as an over-the-air software update in the Settings app.