Casio exhibits latest product at CES 2018 in Las Vegas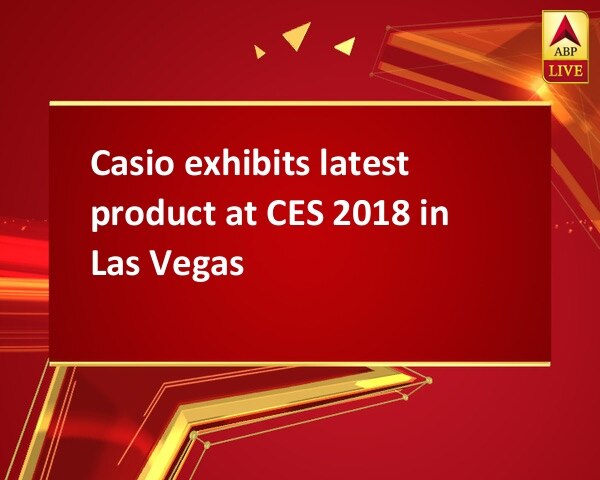 By:

ANI
Updated:
24 Jan 2018 03:20 PM
Las Vegas [USA], Jan 24 (ANI): Manufacturers from across the world showcased their latest technologies and products at the recently held CES 2018, the world's largest Consumer Electronics Show in Las Vegas.
From home appliance manufacturers to automobile makers, 4,000 companies from various industries took part in the mega show.
The Japanese appliance manufacturer "CASIO" took part to show off its new technologies. At Casio's booth, the latest type of watches that utilise IT technology "G - shock" and the action camera "G'z EYE" were displayed.
Another product among the displayed items in CASIO's booth was "Mofrel" the 2.5D printer technology. It incorporates innovative technology not found in conventional ink jet printers and 3D printers. Hereafter, sketches of leather, cloth, thread, and other gentle curves can be printed.
"The feature of Mofrel is that it can produce a 1.7 mm roughness on the surface so we can recreate and express irregularities of different materials. Till now it was possible to produce only the shape of a prototype using 3D printers, but with our 2.5D printer we can make even the surface texture of a prototype. By doing so, it became possible to make easily moldings that could only be done before using hard molds like for example the wooden molds," said Kurosawa Satoshi, an official from Casio.
Mofrel can print beautiful shades and delicate irregularities similar to general inkjet printers and create surfaces of various materials.
"Mofrel can make sample with one day. It can create samples with high speed and low price. We expect it to be useful in a wide range of industries of making things," said Terada Hideaki, another company official.
Casio is promoting the development of not only surface decorations but also functions. In Japan, the company will focus on prototype development in automobiles, building materials, apparel and other designs. (ANI)
This story has not been edited. It has been published as provided by ANI