Facebook's Messenger Kids: How to setup and use this application
The Messenger Kids is a stand-alone app that will be available on kids' tablets or smartphones. The application can be controlled from a parent's Facebook account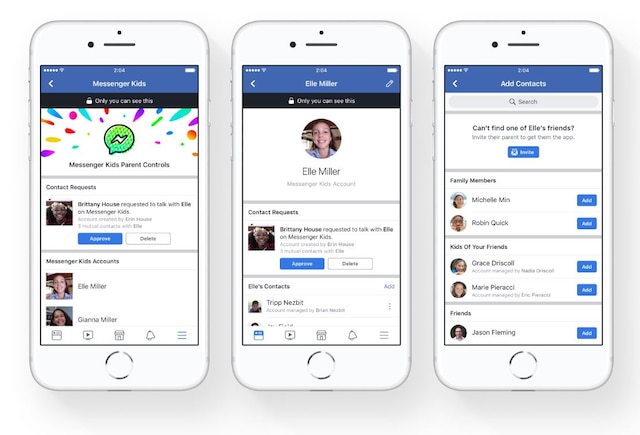 New Delhi:
In order to help parents connect better, Facebook on Monday released its Messenger Kids. The application claims that it will make it easier for children to video chat safely and message with family and friends when they can't be together in person. The feature was released in the US for now.
Image: newsroom.fb.com
The Messenger Kids is a stand-alone app that will be available on kids' tablets or smartphones. The application can be controlled from a parent's Facebook account. This preview will be available in the App Store for iPad, iPod touch, and iPhone.
The Messenger Kids account can be set up in four steps.


Download: First, download the Messenger Kids app on your child's iPad, iPod touch or iPhone from the App Store.


Authenticate: You need to authenticate your child's device using your own Facebook username and password. (This will not create a Facebook account for your child or give them access to your Facebook account)


Create an account: Finish the setup process by creating an account for your child, where you will need to provide their name. Then the device can be handed over to the child so they can start chatting with the family and friends you approve.


Add contacts: To add people to your child's approved contact list, go to the Messenger Kids parental controls panel on your main Facebook app.


In a blog
post
, Loren Cheng, Product Management Director wrote "Whether it's using video chat to talk to grandparents, staying in touch with cousins who live far away, or sending mom a decorated photo while she's working late to say hi, Messenger Kids opens up a new world of online communication to families."
Media reports also claim that in the application, special proactive detection safety filters prevent children from sharing sexual content or violence. A dedicated support team will respond quickly to reported or flagged content.
"In addition to our research with thousands of parents, we've engaged with over a dozen expert advisors in the areas of child development, online safety, and children's media and technology who've helped inform our approach to building our first app for kids," Cheng added.
newsroom.fb.com
The company claims the Messenger Kids application is full of features for kids to connect with the people they love. Once the app is set up by a parent, the home screen shows them at a glance who they are approved to talk to, and when those contacts are online.
The company claims that for the Messenger Kids, there are no ads and a child's information isn't used for ads. The application is free to download and there are no in-app purchases.