OnePlus 7 Pro Review: Ahead Of Its Time
With the launch of Oneplus 7 Pro, the Shenzhen-based firm has forged a new path for itself. Available in three variants, the starting price of the OnePlus 7 Pro is Rs 48,999. This variant offers 6GB RAM and 128GB storage. Another variant offering 8GB RAM and 256GB is selling at Rs 52,999. And the 12GB RAM and 256GB storage model of the OnePlus 7 Pro is priced at Rs. 57,999.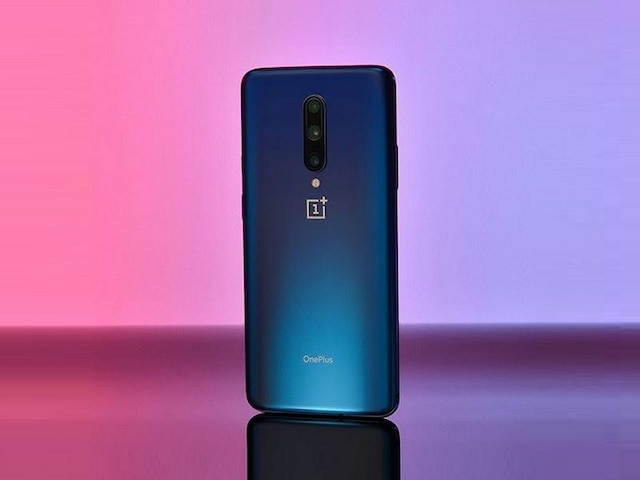 OnePlus has launched 11 phones since it entered the smartphone market in 2014. It has managed to capture the premium segment in the recent past with the likes of OnePlus 5,
OnePlus 5T
, OnePlus 6 and
OnePlus 6T
. With these phones, it has not only challenged smartphone majors like Samsung, Apple and Google but also jeopardised their sales, not only in India but globally, by offering flagship-like experience at a lesser price.
While the competition in the Rs. 30,000 plus segment is heating up day by day with Vivo, Oppo, Huawei and
Google
also joining in, Oneplus now seems to have done with the 'flagship killer' formula and transformed itself into a more mature competitor. Launching its most expensive smartphone in the form of the OnePlus 7 Pro, five years after its humble beginnings, OnePlus is now set to disrupt the flagship segment, where Samsung, Apple and Google are sitting comfortably.
With the Oneplus 7 Pro, the Shenzhen-based firm forged a new path for itself. Boasting a premium glass and metal design, an impressive notch-free display with the refresh rate of 90Hz, a pop-up selfie camera, a more responsive in-display fingerprint sensor, and a triple camera system on the rear, the OnePlus 7 Pro has almost everything to impress the flagship buyers.


The OnePlus 7 Pro was launched on May 14, 2019. Available in three storage variants, the starting price of the OnePlus 7 Pro is Rs 48,999. This variant offers 6GB RAM and 128GB storage. Another variant offering 8GB RAM and 256GB is selling at Rs 52,999. And the 12GB RAM and 256GB storage model of the OnePlus 7 Pro is priced at Rs. 57,999.

Design And Display

The first thing you will notice about the OnePlus 7 Pro is the absolutely massive 6.67-inch OLED display. With curved edges and virtually no bezels to speak of, this is one of the biggest displays ever fitted to a smartphone. The Samsung Galaxy S10+ boasts a 6.4-inch display and the iPhone XS Max has a 6.5-inch screen. It is not just the 3120 x 1440 resolution but also the refresh rate of 90Hz and HDR10+ support that inarguably makes it the best display panel in the market. Everything on the OnePlus 7 Pro runs at the refresh rate of 90Hz, instead of the usual 60Hz- by comparison, the Samsung Galaxy S10+ has a 60Hz screen refresh rate. The higher refresh means animation playback is smoother and every interaction with the phone feels faster and more fluid than ever. A 40 per cent higher refresh rate means having to draw 40 per cent more frames all the time, but this comes at a battery cost. Thanks to easy settings in the OnePlus 7 Pro, you can also change the default always-on 90Hz mode to an always-on 60Hz mode.




This device has a 19.5:9 aspect ratio. Colours are more vibrant, multimedia content looks immersive on the OnePlus 7 Pro, as you'd expect from its OLED panel. The screen is clear and sharp and has great viewing angles, also a good amount of brightness to use under direct sunlight. Overall, the OnePlus 7 Pro has the best smartphone display among the flagship smartphones. It beats the likes of the Samsung Galaxy S10 Plus, Huawei P30 Pro, iPhone XR and Google Pixel 3, hands down.

OnePlus 7 Pro offers a motorized, pop-up selfie camera that emerges from the top of the handset when required. As soon as you turn the selfie camera on, it slides into action in no time; when you switch back to the rear camera, it quickly disappears. Switching between front and back cameras takes less than a second. Also, the build quality and operating speed of this pop-up camera, as you expect from a OnePlus device, are really impressive.




Like in its predecessor, OnePlus has fitted fingerprint sensor under the display in the OnePlus 7 Pro too. It seems to be faster and more accurate than that of the OnePlus 6T. Now, the back of the phone is clean and elegant. The vertical triple camera system, the LED flash and the OnePlus logo, all sit in a straight line, giving the smartphone the utmost premium look. I received the Nebula Blue variant and its matte finish ensures that the device gets fewer fingerprints. However, at 206 grams, the phone felt a bit heavy. The Samsung Galaxy S10, in comparison, weighs 157 grams, and the Huawei P30 Pro weighs 192 grams.

Processor And Performance

The OnePlus 7 Pro ships with Android Pie and OnePlus's Oxygen OS skin on top. It's powered with an octa-core 2.84 GHz Qualcomm Snapdragon 855 processor, built on 7nm processor technology, with Adreno 640 graphics. The Snapdragon 855, as they say, is around 30 per cent faster than its predecessor, the Snapdragon 845, which the OnePlus 6T comes equipped with.

What's more, the OnePlus 7 Pro comes with a stunning 6 GB to 12 GB of RAM, and 128 GB or 256 GB of ultra-fast UFS 3.0 storage. UFS (Universal Flat Storage) 3.0 is designed for higher data transfer speed (faster read/write speeds), and increased reliability to flash memory storage. It has twice the bandwidth of the current UFS 2.1 standard and will allow mind-blowing data transfer speeds of up to 23.2Gbps, based on two lanes capable of transferring 11.6 Gbps each. These data transfer speeds determine how fast your phone can read something from storage or write something to it. You don't get a memory card slot with the OnePlus 7 Pro, but would you ever need one when you already have 128GB or 256GB of storage?




There's a Gaming Mode, which shuts out notifications and alerts and optimizes the phone for performance, besides enhancing the gaming experience by activating a faux-HDR mode with brighter highlights and deeper blacks. There's also a deeper Fnatic mode that virtually kills everything except the game you're playing.

If you compare these specifications, including the display, with other phones, you will find that there is simply nothing else in the market with this configuration. Whatever you're doing with the phone, it makes it fast. The top-notch 90Hz display makes scrolling on this phone incredibly smooth. It offers a futuristic experience unlike any other Android phone in the market. Overall, the phone offers superior, lag-free performance while playing heavy graphics consuming games like PUBG, Asphalt 9, TEKKEN, NFS, etc. with multiple apps running in the background. To sum up, it's a kind of a phone that's going to cope with whatever you can throw at it even in the years to come.

The in-display fingerprint reader of the OnePlus 7 Pro has been quick and accurate. In our review, I find its unlocking speed to be fast and consistent. It's faster than I have seen in the Samsung Galaxy S10 and the Huawei P30 Pro. Almost every time you'll get the phone to unlock on the first try. What may put you off is the lack of IP water and dust resistance and wireless charging. But they're not a deal-breaker.

Camera

In the camera department, OnePlus showcased its brilliance with the OnePlus 6T, launched in October 2018, in the premium segment. It, however, could not surpass the standard set by Pixel 2 and Pixel 2 XL, which were selling at around 40K till March this year. Now, with the shifting of the goalpost and OnePlus targetting the flagship segment, its latest offering will be put straight against the likes of the Google Pixel 3, the Huawei P30 Pro and the Samsung Galaxy S10.




At the back of the phone, OnePlus has opted for three camera lenses: a 48-megapixel main sensor with an f/1.6 aperture and both optical and electronic image stabilization, an 8-megapixel telephoto lens with an f/2.4 aperture and 3x optical zoom and 10x digital zoom and a 16-megapixel ultra-wide-angle lens with an f/2.2 aperture and a 117-degree field of view. Its main 48MP camera takes stunningly sharp and detailed images and you can also use it to capture high-resolution, super-steady 4K videos. the 8MP Telephoto and the 16MP ultra-wide lenses also come in handy.

It not only sounds great on paper, but it's the best camera OnePlus has created so far. Pictures clicked by the primary camera came out crisp and sharp. You have loads of detail packed into every shot, complete with true colour reproduction. The 3x optical zoom lets you fit a fantastic amount of scene into a frame, and you can shoot high-quality, detailed images even at a distance. When shooting in brightly lit environments, the OnePlus 7 pro yields the great balance of fine detail, contrast and exposure.




Drop the lights, and it still emerges as a capable shooter. Nightscape is perfect for capturing low-light photos with improved clarity, less noise, more accurate colour reproduction and better dynamic range. The OnePlus 7 Pro often captures better photos than the Google Pixel 3 XL and 3a XL with its Nightscape mode. In terms of video, it could produce decent HD videos at 1920 x 1080. Its 16-megapixel sensor selfie snapper takes pretty nice portrait photos. It captures sharp images with a decent amount of colour. Also, this pop-up module is smart enough to know if the phone is being dropped, and automatically retracts the camera sensing a fall.

In our review, I used this camera in a variety of shooting conditions, and it has impressed me most of the times - not every time. The 3x zoom and Nightscape features, at times, outperformed other flagship phones. There's plenty of depth in the images as well. Overall, the camera performs well but to establish itself in this segment, OnePlus should improve on its shooting capabilities a bit more.




Battery

The OnePlus 7 Pro packs in a 4,000 mAh Li-Ion battery which will get you through a full day of web browsing, social media, streaming music and taking photos. The phone retained 20 per cent of its battery life after a full day of heavy usage. With normal usage, you'll get to about a day-and-a-half before needing to charge it again. Also, the Warp 30 charging technology is absolutely stunning and powers the cell from 0 per cent to 50 per cent in only 20 minutes, if you need to quickly plugin for some juice. It reaches the 100 per cent mark in 1 hour 15 minutes. You can also improve battery life by lowering the screen refresh rate from 90Hz to 60Hz.




Verdict

The OnePlus 7 Pro is an exceptional smartphone that puts most of the current flagship phones at risk of being ignored. The screen is fantastic, as is the rest of the design, and the overall build quality is simply amazing. It delivers the best-ever display found in a smartphone. It has a higher price tag than any other OnePlus device before it but justifies this in every way. The camera quality, which previously was a concern, has been improved with an update. It offers cool, high-end features like an in-display fingerprint reader that's accurate and fast and a smart pop-up selfie camera. Add in strong battery life and easy-to-use software. Boasting all of this, OnePlus has pushed the specs and features further than ever in this phone. The OnePlus 7 Pro packs in everything you want in a flagship. If you're not overly concerned with it skipping on wireless charging and IP ratings, it is the best smartphone you can buy right now.