Independence Day Special: 6 Must Watch Patriotic Movies
Independence Day 2018: Every year on 15th August the country celebrates freedom from the British rule. As we celebrate independence, here are five must-watch patriotic movies.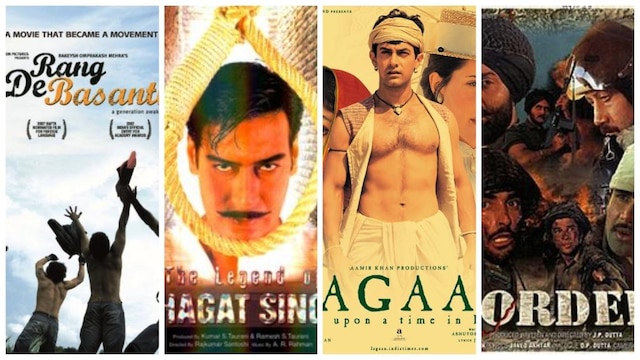 NEW DELHI:
India's freedom struggle has been narrated by Bollywood time and again. This Independence Day, have a look at the movies based on the freedom struggle and Indo-Pak relationships.
the movie Border was based on the Indo-Pakistan from the battle of Longewala which was fought in Rajasthan during the 1971 war. The film is directed by JP Dutta and stars Sunny Deol, Sunil Shetty, Akshaye Khanna, Jackie Shroff, Tabu and Pooja Bhatt among others.


This movie brings together three different angles of patriotism and its appreciation – a foreign tourist who values Indian history, an Indian Air Force flight lieutenant who sacrifices his life at the hands of corruption and a group of Indian youth who strive to bring justice to this martyr's sacrifice with their newfound passion inspired by the historic freedom fighters.



The film is set during the British Raj and revolves around villagers who feel oppressed due to high taxes levied by their rulers.





The Legend of Bhagat Singh



Based on freedom fighter Bhagat Singh, the film talks in length of the martyr's role in India's freedom struggle.


Hrithik Roshan comes of age when he finally decides to join the armed forces and fight for his country in Lakshya.



Aamir Khan returns to a successful theme with this film based on a real-life hero of the 1957 Soldiers Uprising. It is directed by Ketan Mehta, produced by Bobby Bedi and with a screenplay by Farrukh Dhondy.