10 recent developments in missing JNU student Najeeb Ahmed's case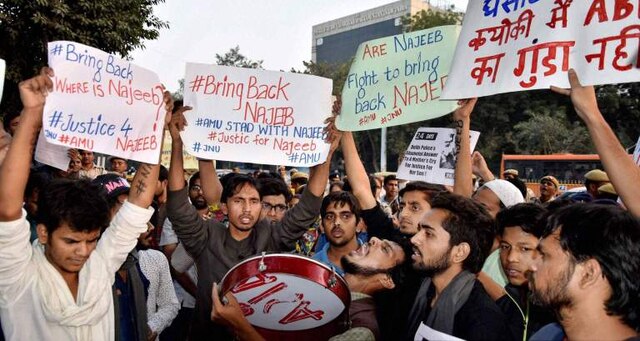 By:

PTI
Updated:
15 Dec 2016 10:00 AM
New Delhi: Even after two months of JNU student Najeeb Ahmed's mysterious disappearance, Delhi Police hasn't been able to find any breakthroughs despite round-the-clock efforts and several teams working on different clues to trace the student.
Najeeb had gone missing on October 15 following the scuffle allegedly with ABVP members the night before. (Image Courtesy: Facebook)
There are 11 teams working under the supervision of two DCPs of Crime Branch to trace Najeeb. In the last few days, police has conducted search operations in dargahs, mosques and madrassas in Delhi, Aligarh, Bareilly and Badaun for Najeeb, said a senior police officer.
These are the recent developments that have taken place in the case.


JNU students on Tuesday protested at the administration block of the varsity by writing "Where is Najeeb?" using flowerpots opposing the token punishment given to alleged assaulters of the missing MSC student and also against erection of iron grille to cover the space where they held sit in.


Concerned over continued disappearance of a JNU student for nearly two months, Delhi High Court on Wednesday directed the police to "scan" the entire campus, including hostels, classrooms and rooftops, of the varsity by using sniffer dogs.


The court also asked Delhi Police to take all necessary steps without further loss of time to trace Najeeb, saying there has been delay in recording statements of some students suspected of thrashing him a day before his disappearance.


Jawaharlal Nehru University (JNU) and its student union, JNUSU, were asked by the bench to file affidavits in two days stating they have no objection to the "thorough search" and that all assistance would be provided to the police.


The court also said the police was free to search Jamia Millia University also, if required. In case of any resistance or objection to it from the varsity or its students, the agency could approach the court for permission.


Delhi Police, represented by senior standing counsel for Delhi government Rahul Mehra on Wednesday sad that it was exploring all angles, including abduction, and was not hiding any details of the probe from the student's mother.


Mehra also said four students, who are suspected of beating up Najeeb, would be put to lie-detector tests to get leads or clues about his disappearance and whereabouts. The police expected to get results in the next 10 days, he said.


Fatima Nafees, the mother of missing JNU student Najeeb Ahmed, on Wednesday sought people's support to find her son, who disappeared about two months ago, as she led a protest march in New Delhi attended by activists, political leaders and people from her hometown Badaun.


The protest march, called by JNU Students Union (JNUSU, started from Mandi House and was joined by activists and MPs of Samajwadi Party (SP), All-India Majlis-e-Ittehadul Muslimeen (AIMIM) and Janata Dal (United).


The Jawaharlal Nehru Students Union (JNUSU) on Wednesday promised "full cooperation" to police to search on the campus to trace the MSc student . "Delhi High Court's direction to the Delhi police to search the university campus accommodation, ad-block, and the green areas using sniffer dogs, has long been a demand of JNUSU," president of the students union Mohit Pandey said in a statement.


Najeeb had gone missing on October 15 following the scuffle allegedly with ABVP members the night before. Delhi Police's Crime Branch has been trying to trace Najeeb without any success so far, although a reward of Rs 10 lakh has been announced on any information regarding him.