2 men brutally thrashed by cow vigilantes in Greater Noida on 'suspicion' of slaughter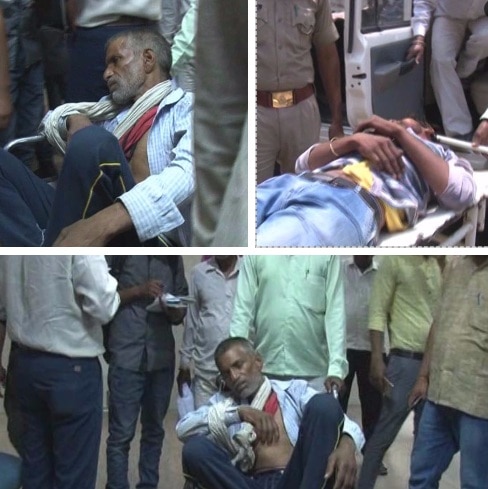 Uttar Pradesh: A fresh case of cow vigilantes has rocked greater Noida's Sirsa Khadarpur village on Friday evening, where two people with one of them being a senior citizen were badly thrashed by cow vigilantes; who suspected them to be cow slaughters.
Jaiveer and his uncle Bhoop Singh who sell vegetables in greater Noida, were returning home with their cow; that is when the 'gau-rakshaks' (cow vigilantes) speculated that they would later slaughter the cow and started thrashing them.
As per the complaint filed in the police station, the cow had been gifted to them by a Muslim man, for he had lot animals to take care of.
ABP News image
Speaking to ABP News, Bhoop Singh said "there were four people in total. They didn't even ask us if we were taking the cow for slaughter and started roughing us up",
Both the victims are being treated in the hospital and have suffered injuries in nose, chest and shoulders.
An FIR has been lodged against all four accused, but no arrests have been made so far.
Another such incident made ripples in the area last year where a man named Akhlaq was thrashed till death in Dadri's Besehra village, on suspicion of storing beef in his refrigerator.
Incidents of thrashing people by cow vigilantes are on a rise and have increased at a great pace in past few months.
Uttar Pradesh government had tightened noose around the slaughter house owners and have strictly banned cow slaughter in the state.