2017 U.P election: Congress makes big announcement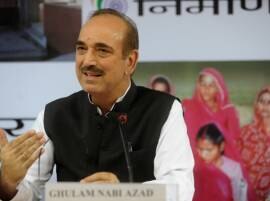 New Delhi: Congress party has made a major revelation in regards to key 2017 U.P assembly polls.

After being appointed as Congress General Secretary and becoming an in-charge of forthcoming Uttar Pradesh elections, Ghulam Nabi Azad spoke in a meeting that the Congress party might go against its age old tradition and reveal the name of its U.P Chief Ministerial candidate ahead of the polls.

Before the big announcement by Azad, there were speculations and major internal demands for appointing Priyanka Gandhi as party's face in U.P.

Amid the big announcements Azad declared the talks of appointing Rahul Gandhi as U.P CM candidate null and void. He said, "Rahul Gandhi is our national leader. There is no question of projecting him as CM candidate. But, will come out with the name of the candidate before U.P polls".

The party, which is also expected to release the name of its U.P state president, is according to the reports, mulling three contenders namely Jitin Prasada, Pramod Tiwari and Sheila Dikshit for the position.