'US stands with the people of India in their quest for justice', Trump says while remembering 26/11
'We will never let terrorists win, or even come close to winning', Donald Trump mentioned in his tweet on the ten-year-anniversary of 26/11 attacks.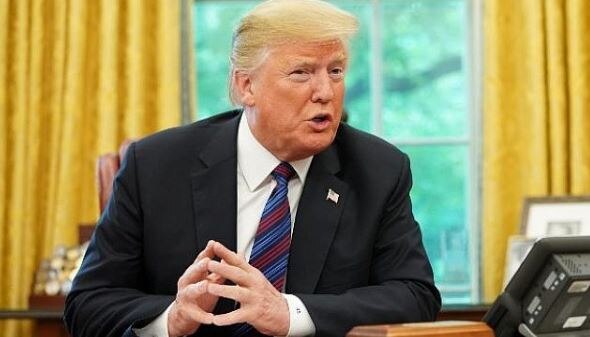 New Delhi: US President Donald Trump expressed solidarity with India in its quest for justice and against terrorism, on the ten-year-anniversary of the appalling terror attacks in Mumbai. Trump vowed to never let terrorists win or 'even come close to winning'.

"On the ten-year anniversary of the Mumbai terror attack, the U.S. stands with the people of India in their quest for justice," Trump tweeted.

"The attack killed 166 innocents, including six Americans. We will never let terrorists win, or even come close to winning!" he said.

The coordinated attacks that were unleashed on November 26, 2008, continued for three days and claimed lives of 166 innocents including six US nationals. The barbaric attacks were carried out  by 10 LeT fedayeen from Pakistan.

Kia Scherr, whose husband and a 13-year-old daughter were killed in the attack, thanked the president for his tweet. "May this day serve to remind us that love overpowers hate. This is the strength no bullet can kill. This is our true power. Thank you," she said.

Nathan Sales, State Department's coordinator for counter-terrorism said in his brief remark: "We call upon all countries, particularly Pakistan, to do their parts in bringing the perpetrators to justice. All countries must uphold their international obligations to take action against this UN sanctioned terrorist group and its leaders."

He warned terrorist outfits and their leaders that the US will chase them wherever they are. "Our citizens died together. So we must all work together to end the scourge of terrorism. We must prevent the terrorists who committed this act of barbarism, LeT from ever threatening our people again" he was quoted as saying by news agency PTI.

A day earlier, the US State Secretary Michael Pompeo strongly condemned terrorism and called upon Pakistan to implement sanctions against the terrorists responsible for this atrocity, including Lashkar-e-Tayyiba and its affiliates.

The US states department also increased the reward on the LeT chief and the mastermind of the attack Hafiz Saeed, Zakiur-Rehman Lakhavi and other involved terrorists and called for immediate punishment of those responsible.

Under its Rewards for Justice programme, the country has increased reward money up to 5 million dollars for information about any individual who committed, conspired, aided or abetted the 2008 Mumbai attack. It said that the key members of this heinous plot remain at large, and this investigation remains active and ongoing and that this reward offer extends to any individual who bears responsibility for this act of terror.

Pompeo had said that it is an affront to the families of the victims that even after ten years, those who planned the Mumbai attack have still not been convicted for their involvement.