58 missing, presumed dead in London inferno: Police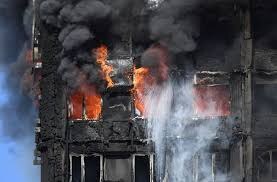 By:

AP
Updated:
17 Jun 2017 09:11 PM
London: In a latest update on London fire, London police on Saturday said that 58 people who were in Grenfell Tower are still missing and assumed to be dead.

Police Commander Stuart Cundy said Saturday that this number, which was based on reports from the public, may rise. He says it will take weeks or longer to recover and identify all the dead in the public housing block that was devastated by a fire early Wednesday.

He said there may have been people in the tower that police are not aware of, which would add to the death toll.

He says the search for remains had been paused because of safety concerns but has resumed. Emergency workers have reached the top of the 24-story tower.

Cundy promised an exhausting investigation into the tragedy. He says "my heart goes out to those affected."

London's fire department said that the reason for the subway closure near the high-rise fire disaster is because of a "short-term risk of some debris falling onto the tracks."

Earlier, a sign at a Tube station said that the service suspension was because of the "safety" of nearby Grenfell Tower, suggesting structural concerns. A new sign was put up, removing that detail.

A fire department spokesman said crews are working to secure the debris so that two subway lines could be reopened as soon as possible.

At least 30 people were killed in Wednesday's inferno, which left Grenfell Tower a charred hulk.

Service on two London Underground lines has been partially suspended because of concerns about the safety of the high-rise in the fire that killed at least 30 people.

The 24-story Grenfell Tower in the north Kensington neighborhood in west London is near several major transport hubs. The building was gutted in a blaze early Wednesday morning that has also left dozens missing and hundreds of others homeless.

Major roads near the stricken building were open Saturday. Police have established a security cordon around the building to protect public safety and allow searchers easy access to the wrecked building.

British Prime Minister Theresa May will meet with survivors of the London high-rise fire at her Downing Street office.

The announcement by a spokesman comes a day after May was heckled during a visit to the west London neighborhood where Wednesday's inferno took place. At least 30 people have been killed, hundreds of others have been left homeless and dozens of others are missing. There has been growing public anger at the government's initial response to the disaster's aftermath and reports that external paneling put up during a recent renovation contributed to the flames' rapid spread.

May is chairing a government task force on the fire and a spokesman says that she will meet afterward with "a group of residents, victims, volunteers and community leaders" at No. 10 Downing Street.

A soccer player says that he will donate 50 pounds (more than $60) for each minute he plays at a European youth tournament to the victims of London's high-rise inferno.

Hector Bellerin, who is in Spain's team at UEFA's European Under-21 Championship, made the announcement on Twitter , saying "please support in any way." Spain faces Macedonia on Saturday night in the tournament, which is being played in Poland. If Bellerin plays a full 90 minutes, not including added time, he would donate 4,500 pounds (about $5,750) per match. Bellerin, a defender, also plays for London club Arsenal.

At least 30 people were killed in the fire at Grenfell Tower in the west London neighborhood of north Kensington. Hundreds of others have been left homeless and dozens are missing.

Queen Elizabeth II and her husband Prince Philip have observed a minute of silence to honor the victims of the London high-rise fire.

The queen and Philip stood silently before the start of the annual Trooping the Color procession that marks the queen's official birthday.

She said earlier that the national mood is somber but that Britain is resolute in the face of adversity.