AAP accuses Cong of cheating farmers
"Congress has cheated the farmers fraternity by making false promises of complete debt waiver"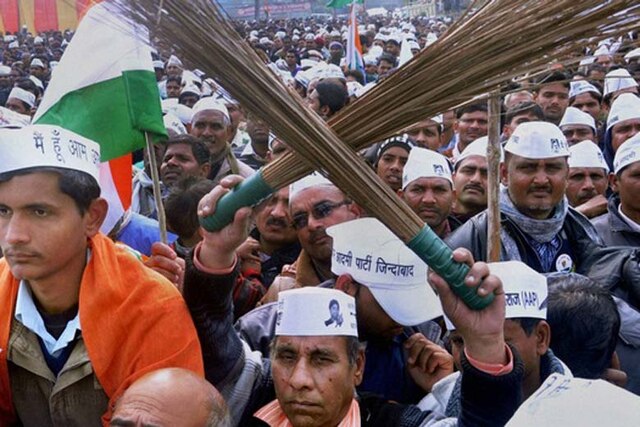 By:

PTI
Updated:
07 Aug 2017 08:31 PM
Baba Bakala: The Aam Aadmi Party (AAP) today accused Congress of cheating farmers by making "false" promises of debt waiver.

"Congress has cheated the farmers fraternity by making false promises of complete debt waiver," AAP MLA and leader of opposition Sukhpal Khaira said while addressing a political conference on the occasion of 'Rakhar Punia'.

People believed the assurances of Capt Amarinder Singh made during the election rallies but the chief minister has shattered the dreams of the farmers, alleged Khaira.

He alleged that "anti-farmer" policies of governments have led to a rise in the suicides and if remedial steps were not taken immediately there would be severe repercussions.

Khaira appealed to NRI Punjabis to come forward to help the poor farmers and farm labourers in the state.

He suggested that the NRI should stop spending money on cultural events being held in Punjab and use that money to form a fund for debt ridden farmers.

He criticized the state government for turning a "blind eye" to the pitiable situation of farmers.

Speaking during the conference, party's state unit chief Bhagwant Mann said that AAP had repeatedly warned the people before the Punjab Assembly elections that the SAD-BJP and the Congress were in a "secret alliance" to form government in state.

He claimed both the parties have agreed "clandestinely" to use all means to keep AAP away from the centre of power.

Mann said that they were very well aware of the fact that in case the control of state comes into the hands of AAP, "illegal" businesses being run by Akali-Congress in partnership will come to halt and their "nefarious designs" exposed before the public.

The AAP state president said that the sole objective of Congress was to "grab" the power and after formation of government Amarinder Singh is running away from fulfilling most of the promises made during the polls.