ABP News Exit Poll: UP set for hung Assembly; BJP to sweep Uttarakhand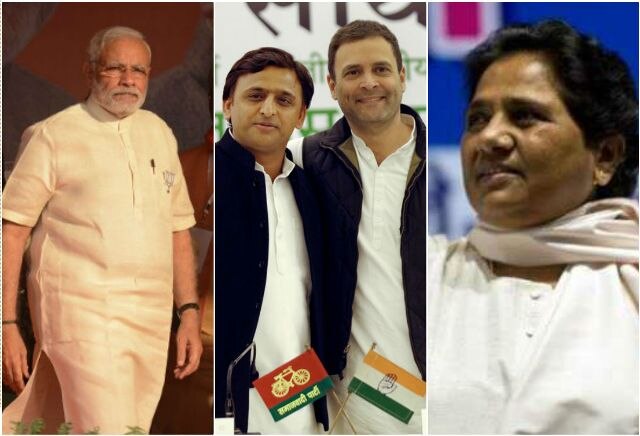 NEW DELHI: Uttar Pradesh seems headed for a hung assembly in 2017 Assembly elections with BJP emerging as the single largest party but far away from the magic figure of 202 seats required to form the government, ABP News exit poll predicted on Thursday.
The two-month long assembly elections in five states, marked by frequent name- calling, ended on Wednesday. Now, all eyes are glued on ABP News' exit poll for the most accurate post-poll prediction on elections in four states- UP, Uttarakhand, Punjab and Goa.
Live Updates on ABP News' exit poll
Uttarakhand:


Uttarakhand might just be headed for a change of government in the 2017 Assembly elections.  According to ABP News' exit poll, BJP may bag 34-42 seats in the 70-member Assembly, reducing the incumbent Congress to 24-19 seats.


Uttarakhand (70 seats): BJP 34-42, Congress 24-19, Others 3-9


Uttar Pradesh:


UP CM Akhilesh in interview to BBC does not rule out forming UP govt with Mayawati's BSP post results,says "nobody wants a President's rule"


Collectively in seven phases in UP: BJP 164-176, SP 156-169, BSP 60-72


Seventh phase (40 seats): BJP winning 15-21 seats, SP 9-15, BSP 6-8


Seventh phase (40 seats): Vote share: BJP 33%, SP-29%, BSP 26%


Sixth phase (49 seats): BJP may get 18-24 seats, SP winning on 14-20 seats, BSP again placed at third with 8-12 seats.


Sixth phase (49 seats) vote share: BJP 32%, SP 31%, BSP 26%




Fifth phase (52 seats): SP again bounces back with 21-27 seats, BJP may get 14-20 seats, BSP winning 8-12 constituencies.


Fourth phase (53 seats): BJP may get 27-33 seats, followed by SP with 16-22 seats. BSP may get 2-6 seats.




Fourth phase: Vote share- BJP 36%, SP 33%, BSP 20 %


Collectively in first three phases SP is getting 82-100 seats followed by BJP with 75-93 seats. BSP faces rout, distant third in contest.




Third phase (69 seats): BJP 27-33, SP 25-31, BSP 9-13. In 2012 Assembly elections, SP won 55 out of these 69 constituencies.


Third phase (69 seats): Vote share- BJP 33%,  SP 34%, BSP 23%.




Second phase (67 seats): BJP 15-21, SP 37-43, BSP 7-11.


Samajwadi party emphatically bounces back in the second phase with 37 percent votes.


First phase (73 seats): BJP may get 33-39 seats, SP on second with 20-26 seats, BSP distant third with 12-16




First phase (73 seats): BJP gets 32% vote share, SP bags 28%, BSP is on third with 26%.


Just after elections, SP started fighting in public. Azam Khan says Mulayam's wife Sadhna Yadav shouldn't have spoken before polling, if Akhilesh loses everyone will lose.


Akhilesh could've formed govt alone.At many places Cong tried to defeat SP candidates,even if it meant victory for BJP: Ravidas Mehrotra


It is my personal view that Congress-SP alliance reaped no benefit for SP, it is only beneficial for Congress: Ravidas Mehrotra, SP


Uttar Pradesh will be deciding 2019 route to Delhi. Punjab outcome will determine opposition space till then, says election expert Rasheed Kidwai


Pollsters do not discount chances of a fractured verdict or a clear majority any party after the seven phases of polling that ended in the absence of any wave.


The iconic dialogue -- picture abhi baaki hai, mere dost -- from Shah Rukh Khan's Bollywood movie 'Om Shanti Om' could well describe the current poll scenario in Uttar Pradesh where both results- a hung Assembly or majority to a single party- are possible.


It is the first major election after the demonetisation decision on November 8 last year.


The election is being billed as a litmus test for Modi as the BJP largely banked on his popularity in its bid for power, especially in the crucial state of Uttar Pradesh where it has been out of government for 15 years.


The most interest is in the results of Uttar Pradesh where Modi and his BJP party colleagues pulled out all stops during the campaigning for voting that was spread across seven phases.




The political discourse during campaigning in Uttar Pradesh was dominated by name-calling with offensive acronyms being freely used to attack political opponents.


In UP, the contest is between the BJP, the ruling Samajwadi Party along with partner Congress and Mayawati's Bahujan Samaj Party, which is looking to script a comeback in the state.


To win 202 or 50 per cent seats this year, a party will need to get 35 per cent of the vote share. Five years ago, the Samajwadi Party had needed just 29 per cent of the vote share to win 226 seats. Mayawati's party had won only 80 seats with 26 per cent votes.


The two regional heavyweights saw a steep fall two years later, with the BJP and its ally Apna Dal sweeping the 2014 general election, winning 73 of UP's 80 seats with 42 per cent of the vote share.


The BJP can afford to lose 7 per cent of its vote share from 2014 to still win this year, while SP-Congress must gain 6 per cent to reach 35 per cent, and BSP will have to stretch about 15 per cent to win.


The BJP is counting on its core support base - urban voters, the youth and upper caste voters, while Akhilesh hopes to consolidate his party's traditional Muslim-Yadav vote bank with his partnership with the Congress and is also targeting the Muslims who may vote for the BSP.


Confusion over the chief ministerial face of BJP and not giving tickets to any Muslim candidate could affect the prospects of the saffron party in addition to note-ban pain, feel political pundits. Union ministers Rajnath Singh, Uma Bharti and Mukhtar Abbas Naqvi have said on record that BJP could have given tickets to the community.


The ruling Samajwadi Party could have performed better had the family feud not played a spoiler. The party has been battered by bitter power struggle between Akhilesh and his uncle Shivpal, who is supported by his father and party patriarch Mulayam, and the feud between the warring factions refused to die down.


The chief minister took control of the party on January 1 after ousting Mulayam at an "emergency national convention" and also sacked his uncle as the party's state unit chief. He also did not want parliamentarian Amar Singh in the party. Then came the fight for its symbol 'bicycle' over which both the factions had laid claim before the Election Commission, giving enough indication that any reconciliation was unlikely..


The BSP led by firebrand Mayawati was considered a strong claimant for the chief minister's post till it was hit by an exodus of senior leaders from the party. The BSP's core vote of 21.5 per cent Dalits is not intact. The rainbow coalition of Dalits, Muslims and Brahmins that had brought her to power in 2007 has also split up. Though the BSP's Brahmin face S C Misra extensively toured the state, her party's fate is in the hands of the Muslims.


The BJP has been eyeing UP ever since its spectacular victory in 2014. Its national president Amit Shah launched a spate of public mobilisation programmes including the Parivartan Yatra. However, their trump card is Narendra Modi who remains a popular figure in the state. He has also been working on stitching alliances with various castes as well as smaller parties.


The state's senior leader Rajnath Singh has appealed to the masses to end their 14-year-long 'vanvaas' (exile). The party's demonetisation gamble, seen as a national movement against corruption and black money, could boomerang given the hardships faced by people in the countryside post-note ban.


The Congress, on its part, has been making desperate and sincere efforts to revive the party in the state it ruled for about 40 years. Since 1990 it has been living with a tag of an 'also ran party' in the elections. The party high command hired Prashant Kishor to do a miracle, a la Bihar in UP.


There are other smaller players who will be taking away votes and playing spoilers on seats heading for a close finish, thereby raising the possibility of a hung Assembly, political observers noted.


Rajnath also said BJP's position would have been stronger if SP had not forged alliance with Congress. His remarks came amid reports that Muslims might support the fledging coalition.


The political scene in Uttar Pradesh has been dominated by the Samajwadi Party and Bahujan Samaj Party since 1990s, and if the BJP came to power in the state, it was courtesy the BSP or by breaking small parties to cobble up a majority in the state assembly.


Voters threw hung house in the state for 14 years and that trend changed from 2007 when people decided to deliver a clear mandate. Experts believe that the communication network played an important role in this as voters are connected across the length and breadth of the state.


In Punjab:


In Punjab, 73 per cent polling was witnessed on February 4 while Goa had a record-breaking 83 per cent voter turnout.


Traditional rivals, the BJP and the Congress, are locked in a keen electoral battle in the two states where Arvind Kejriwal's AAP has made its maiden foray in the assembly elections, seeking to play a killjoy for the two major contenders for power.


It is the first outing for Aam Aadmi Party in assembly elections outside Delhi where it rules with an overwhelming majority in the state assembly and it is being keenly watched if it succeeds in its claim of upsetting the applecart of the two major national parties.


In Punjab, the Shiromani Akali Dal-BJP alliance is battling anti-incumbency while Amarinder Singh is leading Congress' bid to return to power after ten years in the 117-member state assembly.


Uttarakhand:


Over 68 per cent votes were cast in Uttarakhand on February 15, two per cent more than the last assembly polls, in 69 out of the state's 70 seats.


Following the demise of two candidates in the Alapur (UP) and the Karnaprayag (Uttarakhand) constituencies, the Commission had postponed elections there and fixed March 9 as the new date.


Congress and BJP, which have been traditionally the main contenders in the hill state, are locked in a straight contests in most of the seats but presence of about a dozen rebel candidates in the fray as independents may upset the calculations of the official nominees of their respective parties.


12 former Congress MLAs, who are contesting this time as BJP candidates, have made these elections interesting.