ABVP students randomly attacking students: JNUSU President-elect N. Sai Balaji
I was shocked and fearing my safety I asked the PCR to take me to Vasant kunj PS. My health deteriorated and I came back to my hostel to take medication. Now I will be going to PS to lodge the complaint."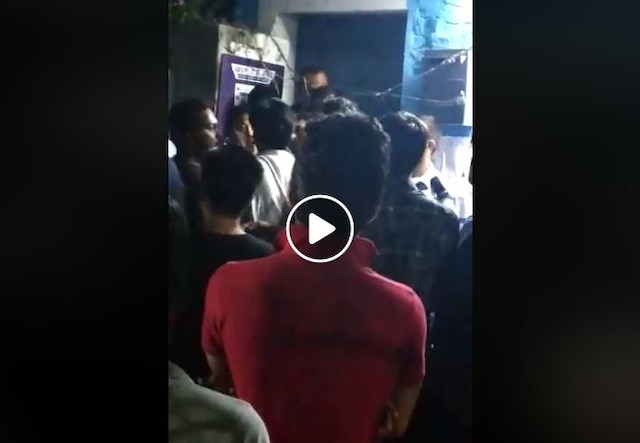 New Delhi: The Left unity alliance registered a massive victory in the Jawaharlal Nehru University Students Union (JNUSU) elections by grabbing all the four tops posts. The Akhil Bharatiya Vidyarthi Parishad (ABVP), student wing of Rashtriya Swayamsevak Sangh (RSS), earned a humiliating loss in the polls sparking noisy celebrations by the exultant Left-backed students.

Violence had marred the counting process and was reported till the wee hours of Monday.

Sai Balaji, who was elected president of the Jawaharlal Nehru Students' Union on Sunday, alleged that ABVP students randomly attacked students. In an early morning elaborative post on Facebook, Balaji said, he was "shocked" and feared "for safety". He also shared two videos of a former JNU student being allegedly assaulted by ABVP at Jhelum gate in front of the college security guards.

"Today ABVP students randomly attacked students.I was called to the scene at Sutjel. As elected JNUSU President I went to ensure Pawan Meena's safety who was attacked by ABVP students with sticks. Upon reaching what I saw was mayhem. The mob led by Saurabh Sharma was baiting for blood of any student they thought a friend of Pawan Meena and were attacking students with sticks.



They openly threatened me, Geeta and other students present there with dire consequences if we intervened to stop the violence. The group now turned into a Mob and started attacking Abhinay a former JNU student in Jhelum and chased him and almost lynched him in the lawns. I ran with other students to save Abhinay who by then had fallen unconscious after the beating and took him to the ambulance and sent him for medical aid.

What happened next was terrifying. I was again threatened by the mob and fearing my safety some students asked me to sit inside the PCR vehicle. However the mob led by Ashutosh Mishra and Saurab Sharma stopped the PCR vehicle and got a ABVP student to sit beside me. These two students were repeatedly stopping the PCR and threatening me. To my surprise Saurabh Sharma stopped the PCR between Jhelum and Sutlej and the ABVP student sitting inside the PCR van opened the door. Upon opening more threats were given to me and I was physically assualted inside the PCR van by ABVP students outside.

I was shocked and fearing my safety I asked the PCR to take me to Vasant kunj PS. My health deteriorated and I came back to my hostel to take medication. Now I will be going to PS to lodge the complaint."

Churning out more details about the alleged attack, Gargi Borah, an AISF All India Students Federation worker said, "These ABVP hooligans again resorted to attacking students of JNU under the auspices of lumpen Saurabh Sharma. They were using abusive words like "janamjaat besharam", " kis angle se ladki ho", "mad*******" etc. This happened when me and comrade Deepshikha Singh tried to retaliate. It is extremely saddening how these sanghi goons are creating a havoc on a repeated phase in this campus. This is enough. We need to stop the hooliganism of these shitheads who has now turned into attacking students openly. I condemn this. This has happened inside the premises of the campus. This is high time to show our unity and raise our voice and strike an action."



However, the ABVP claimed that their members were roughed up by AISA activists.

The ABVP and the AISA have both filed complaints at the Vasant Kunj police station. Deputy Commissioner of Police (Southwest) Devender Arya told news agency PTU that the situation is under control.

"The PCR got calls about a scuffle between students in JNU around 3 am. Subsequently, we had a discussion with university authorities, students and professors. "Complaints have been received in Vasant Kunj (North) police station. Legal action is being taken on merit. The situation is under control and normal. Police arrangements are in place," he said.

The United Left is an alliance of the All India Students Association (AISA), Students Federation of India (SFI), Democratic Students Front (DSF) and All India Students Federation (AISF). The President-elect and Joint Secretary belong to AISA, the Vice President is from DSF, the General Secretary's post was bagged by SFI.