Acche din will come in UP when people dethrone Akhilesh as CM: Amit Shah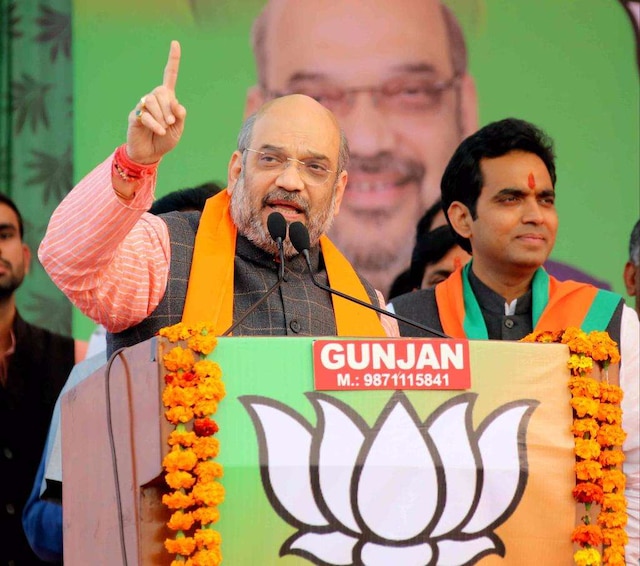 By:

ANI
Updated:
05 Feb 2017 08:18 PM
Amroha, Uttar Pradesh: Labelling Congress vice-president  Rahul Gandhi and Akhilesh Yadav as 'corrupt leaders', Bharatiya Janata Party (BJP) president Amit Shah on Sunday said 'Acche Din' would come in the state, the day people dethrone the Uttar Pradesh Chief Minister from his post. "Acche din will come on March 11.

If people want to change the condition of Uttar Pradesh then they have to help the BJP win the UP polls," Shah said while addressing a rally in Amroha. Shah further highlighted the rising crime cases in the state adding that the goons would leave Uttar Pradesh as soon as BJP will come into power.

"How one can expect development in Uttar Pradesh when every other day hooliganism, rape, murder, loot, riots is taking place here. Akhilesh Yadav has made Uttar Pradesh number one in many things like murder, rape, abduction, riots," he added.

The BJP president further said that Akhilesh has accepted his defeat by entering into an alliance with the Congress. "Akhilesh and Rahul are trying to deceive people of Uttar Pradesh. Rahul and Akhilesh are the two princes with whom their mother and father are fed up respectively and Uttar Pradesh is fed up of both of them," he added.

Earlier in the day, Gandhi retorted to Prime Minister Narendra Modi's 'SCAM' barb, stating that a person "who is involved in scams sees scam everywhere". "Modi ji has come up with a new scheme-SCAM. The person who is in involved in scams, sees scams everywhere," Rahul said while holding a joint rally with Chief Minister Akhilesh Yadav in Uttar Pradesh's Kanpur.

"For me SCAM stands for Seva (Service), Bahaduri (Courage), Shamta (Ability) and Modesty," he added. Akhilesh also took the Prime Minister apart on the 'SCAM' remark, saying, "You all must have been hearing what the senior BJP minister said about removing SCAMs. He also named buaa (Mayawati) in his speech. Even we want to get rid of scams.

We want to save the country from Amit Shah and Prime Minister Modi." The people of Uttar Pradesh will be voting for a new government in seven-phase elections between February 11 and March 8. The Congress will be contesting in 105 seats and the Samajwadi Party will be contesting in 298 seats out of the 403 assembly seats.