Allahabad: Followers of Yogi's minister seize police van, raise Jai Shri Ram slogans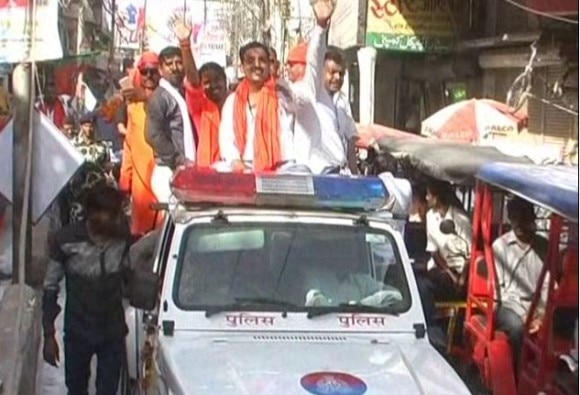 New Delhi: Several eyebrows were raised in Allahabad on Saturday when a group of people shamelessly got on to police van, and roamed around the city shouting 'jai sri ram' slogans. The most shocking part of the incident was, these people were followers of Nand Gopal Nandi, who is a minbsiter in CM Adityanath's cabinet.

Seeing a sight like this, not just exclaimed the people who witnessed it, but raised several questions since the police van should be ideally put to use for the safety and security of the people.

The most shocking part of the whole incident is that the police van was moving just ahead of Minister Nand Gopal Nandi's cavalcade; but Nandi made no attempts to stop his followers from presenting such a show in front of the people.

Not just the faulty minister, even Allahabad cops have chosen to be on the safer side and are refraining from making any comments on the issue.

CM Adityanath asks ministers to live with simplicity:

Sending across a strong message, and acting against the regular misuse of power; CM Adityanath had asked his ministers to resort to simple way of life and not misuse the government facilities like Government car, for personal use. In such a scenario, the Allahabad incident comes as a shocker.