Amid tussle over Rajya Sabha nomination, AAP gets 3 members elected unopposed in Parliament
Sanjay Singh,N D Gupta and Sushil Gupta received a Certificate of Election from the returning officer for the Rajya Sabha polls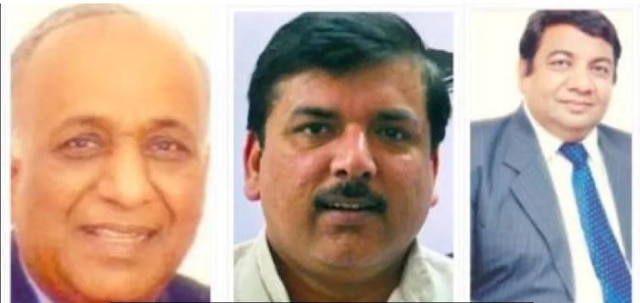 By:

PTI
Updated:
08 Jan 2018 11:33 PM
New Delhi:
The Aam Aadmi Party (AAP) strengthened its position in Parliament today after three of its members were elected to the Rajya Sabha, taking the number of MPs of the five-year-old political outfit to seven.
Chief Minister Arvind Kejriwal trusted lieutenant and party leader Sanjay Singh, chartered accountant N D Gupta and educationist Sushil Gupta received a Certificate of Election from the returning officer for the Rajya Sabha polls.
Earlier in the day, election authorities rejected a petition of Delhi Congress chief Ajay Maken seeking the cancellation of N D Guptas nomination, for allegedly holding an office of profit.
AAPs national secretary Pankaj Gupta called it a "historic day" for the party which recorded a spectacular victory by bagging 67 seats in the 70-member Delhi Legislative Assembly in 2015.
ALSO READ: 57-year-old con man of Tamil Naidu: Marries 8 women to extract Rs 4.5 crore
The AAP now faces the task of making its presence felt in the Rajya Sabha.
"My job will be to raise issues related to Delhi and highlight how the Centre is not allowing an elected government to work despite its massive mandate," Singh told reporters at the party office where he, along with the other two new MPs, were felicitated by Pankaj Gupta and Delhi unit convenor Gopal Rai.
Singh, who is one of AAPs founder members and a part of its top decision-making body, the Political Affairs Committee, also said raising the issue of statehood for Delhi would be his top priority in the upper house.
The Rajya Sabha election had been muddied after Kejriwal chose the two Guptas, considered to be "outsiders", over founder member Kumar Vishwas, who has been at odds with the leadership in recent times.
Vishwas had also made his displeasure known after the partys decision.
Singh, Rai and Pankaj Gupta did not take any questions on Vishwas at the press conference today.
Although the partys strength in Parliament now goes up to seven, it is still fragmented. Of the four MPs in the Lok Sabha, two--Dharamvira Gandhi and H S Khalsa--have been suspended.
The other two--Bhagwant Mann and Sadhu Singh -- had clocked 55 per cent and 53 per cent attendance respectively in Parliament, according to PRS Legislative, a fact tank.