Army major's wife killed: Accused fellow Major made 3000 phone calls to victim
Police said that Major Nikhil Handa, was "obsessed" with the victim and wanted to marry her .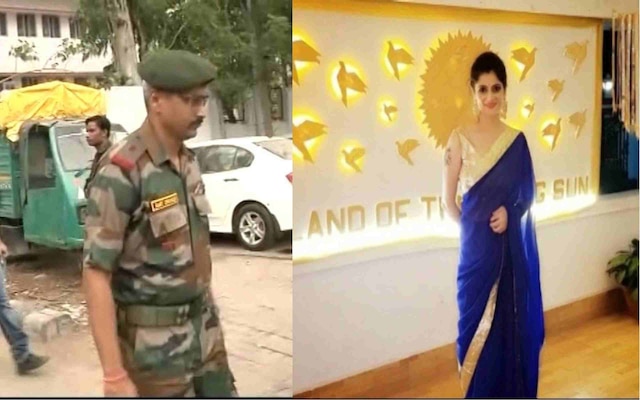 New Delhi:
In fresh revelation in the murder case of Major Amit Dwivedi's wife Shailaja Dwivedi, the accused- Major Nikhil Handa, had spoken to the victim on call and SMS for at least 3000 times since the month of January.
Sources have revealed that in a day Handa would text Shailaja 10 to 15 times.

Police has also recovered two knives from Major Handa's car. He had come to Delhi from Dimapur on pretext of treatment but it is being speculated that he may have planned the murder in advance.

Handa is supposed to appear in Patiala Court in the afternoon.




The 40-year-old Army Major was arrested from Uttar Pradesh's Meerut for allegedly killing his fellow officer's wife he was "obsessed" with, in west Delhi, a senior police officer said.

The body of Major Dwivedi's wife was found near Brar Square in the Delhi Cantonment area on Saturday. The police said she had gone to an Army base hospital for a physiotherapy session and her body was found later.




The woman's husband spotted Major Handa in the CCTV footage of the hospital, where his wife had gone for a physiotherapy session and went missing from there, and told the police that he suspected him.

As per PTI reports, Deputy Commissioner of Police (West) Vijay Kumar said that the accused, Major Nikhil Handa, was "obsessed" with the victim and wanted to marry her while another police officer claimed that the woman and the accused had an affair.

Major Amit Dwivedi and Shailaja Dwivedi got married in 2009 and have a six-year-old son. They started facing rifts in their married life when they befriended Major Nikhil Handa while Major Dwivedi's posting in Nagaland. Hower handa's proximity with Shailaja started growing but Dwivedi objected to Handa's growing closeness with his wife.

Dwivedi has alleged that after he expressed his displeasure at their freidnship, Shailaja tried cutting off the ties with Handa but he would not let her do so.

Major Handa is also a married man with two kids. He knew the woman and her husband, since 2015 when they both were posted in Nagaland.

(With PTI inputs)