Arvind Kejriwal involved in hawala: Salvo by Mishra; AAP a party in crises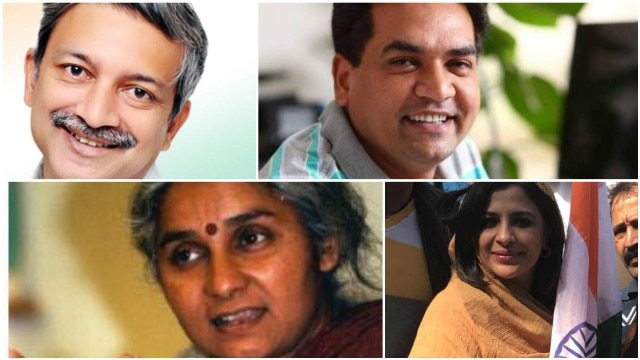 New Delhi: Formed on 26 November 2012, the Aam Aadmi Party (AAP) may probably the political party with most number of controversies in such small span of time, in recent past.
Since its inception, many of its leaders, some founding members, deserted it giving one reason or the other. Some are expelled following difference with AAP national convener
Arvind Kejriwal
.
The latest one ousted from this political party is
Kapil Mishra
after he alleged that he saw Kejriwal taking 2 crores from
Satyendar Jain
.
Here is a list of some of those who left or expelled from AAP:
1)
Captain Gopinath
He quit Arvind Kejriwal's Aam Aadmi Party on May 24, 2014 five months after joining it. Reportedly, he left AAP because of differences over Arvind Kejriwal's "jail politics" and "lack of internal democracy" in the party.
"I have had a series of differences on certain matters and I have brought it to the notice of people concerned. I am not in favour of the recent actions of Mr Arvind Kejriwal and decided to quit ," he had said, reported
The Hindu
.
2)
Shazia Ilmi
Image: Shazia Ilmi/Twitter
In a jolt to AAP, one of its key members,
Shazia Ilmi
quit the party in May, 2014. She cited differences with party leadership and slammed Arvind Kejriwal's "jail politics".
3)
Yogendra Yadav and Prashant Bhushan
Image: PTI/File
Founding members-turned-rebel leaders
Yogendra Yadav
and Prashant Bhushan were expelled from the party. Along with them, Anand Kumar and Ajit Jha have also been expelled by AAP's national disciplinary action committee which found all four guilty of anti-party activities.
4)
Medha Patkar
Image: Medha Patkar/Twitter
Medha Patkar, social activist, quit the Aam Aadmi Party (AAP) condemning the ugly infighting that saw two founder members Yogendra Yadav and Prashant Bhushan being voted out of a key panel for challenging chief Arvind Kejriwal.
5)
Mayank Gandhi
Image: Mayank Gandhi/Facebook
AAP's senior leader from Maharashtra Mayank Gandhi sent out his resignation from the party's national executive. In his resignation letter, Mayank Gandhi stated that he is losing interest in politics.
6)
Shanti Bhushan
One of the founder members, Shanti Bhushan left AAP alleging that Arvind Kejriwal (now CM of Delhi) 'lacks organisational skills'.
The pace with which changes are taking place in political corridors of Delhi, it will be interesting to see how the things will unfold in near future.