Sacked AAP Minister Kapil Mishra begins hunger strike, calls it 'Satyagraha'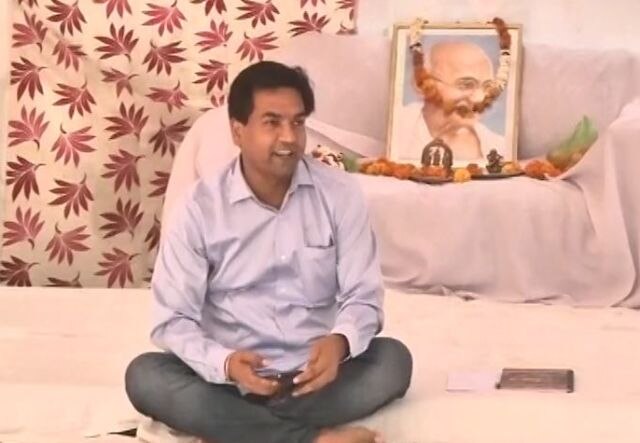 NEW DELHI: Axed Delhi minister Kapil Mishra, who accused Chief Minister Arvind Kejriwal and minister Satyendar Jain of corruption and other irregularities, began his hunger strike on Wednesday seeking details of foreign trips of AAP leaders.

Accusing its members of misusing party funds on foreign trips, Mishra told AAP, "if there is nothing to hide, then provide the details of foreign trips of five leaders. Also inform the public about the source of money".

Mishra said the party says it doesn't have funds then how come its leaders travel overseas frequently.

He, in a latter addressed to AAP chief, said, "I am not protesting but doing 'Satyagrah' by sitting here in a corner and not in front of your residence".

"This matter is serious and related to the country and the law. You will have to make information public," the Karawal Nagar MLA, who was suspended from the primary membership of the AAP, said.



"Until these details are made public and the truth comes out, I will do 'Satyagraha'. I am on hunger strike...," he said.

Mishra, who also wrote an open letter to Kejriwal challenging him to a poll battle, said he is still waiting for a reply.

Mishra on Tuesday filed three complaints with the Central Bureau of Investigation against Kejriwal, his relatives and some AAP leaders including health minister Satyendar Jain.



He sought details about the foreign trips of Sanjay Singh, Ashish Khetan, Raghav Chadha, Satyendar Jain and Durgesh Pathak and threatened to go on a hunger strike if the AAP failed to do so.

He had also submitted to the ACB documents to back his allegations that Kejriwal had delayed a probe into a Rs 400-crore water tanker scam.

The AAP had termed Mishra's allegations against Kejriwal and other leaders as a part of a big conspiracy being hatched against it by the Centre through him. AAP alleged the ruling BJP wants to muzzle voice of the opposition.

Mishra had accused Delhi chief minister of taking Rs 2 crore from his cabinet colleague.

"I saw with my own eyes Satyendar Jain giving Rs 2 crore in cash to Arvind Kejriwal at his residence. When I asked Kejriwal, he said such things happen in politics and it will be revealed later," Mishra had said.

Later Deputy Chief Minister Manish Sisodia said the allegations of corruption levelled by Mishra did not merit a response. "His allegations do not merit a response. He has been sacked due to poor performance," Sisodia said.

Sisodia said the allegations came just after Mishra was told he was being removed as minister.

Senior AAP leader Kumar Vishwas said even the worst enemies of Kejriwal can't imagine him to be corrupt.