Babri Masjid case: Advani made scapegoat, his last dream to become President not possible anymore, says Lalu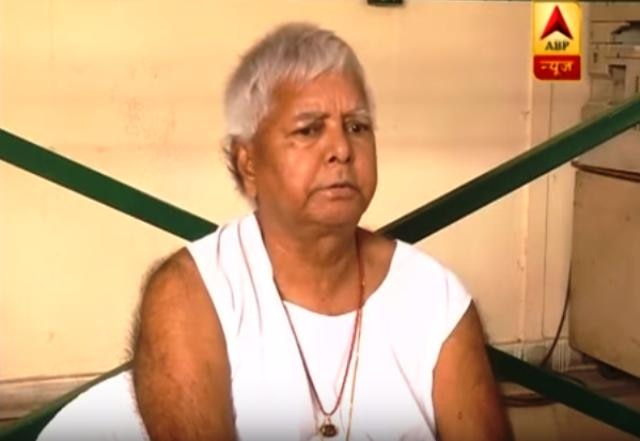 New Delhi: The Rashtriya Janata Dal (RJD) chief Lalu Prasad said senior BJP leader L.K. Advani's last dream to become President of India is not possible anymore after the apex court of the country order that he should face trial in the Babri Masjid demolition case.

"Advani is now out of race for the President's post. He was projected as a strong candidate for the top constitutional post, but it is not possible anymore," Lalu told the media here, reported IANS.

"After Advani was denied to become the Prime Minister of India, now he has also lost the chance to become the President of India," he added.

Lalu welcomed the apex court decision on Wednesday.

While attacking the BJP, Lalu said that Advani was made a "scapegoat" (bali ka bakra) in the 1992 Babri Masjid demolition case.

The CBI, Lalu said, is under the "control" of Prime Minister Narendra Modi, and PM "used it to sideline and remove Advani from the race for the President" of the country.

BJP veteran leader LK Advani was hopeful of becoming at least the President after he was not able to become Prime Minister in 2014 general elections.

RJD chief said BJP veteran Advani was ousted from the race for President as part of a "well-planned political strategy".



On Wednesday, the apex court of the country, Supreme Court revived the conspiracy charge in the 1992 Babri Masjid demolition case against senior BJP leaders L.K. Advani, Murli Manohar Joshi, Kalyan Singh and Uma Bharti, among others.

A bench of Justice Pinaki Chandra Ghose and Justice Rohinton Fali Nariman while restoring the conspiracy charge also transferred their trial from Rae Bareli to Lucknow.

Justice Nariman also said that because Kalyan Singh is currently the Governor of Rajasthan and enjoys constitutional immunity from being prosecuted, the trial court would proceed against him the day he ceases to be Governor.

The court also said that the trial court in Lucknow would frame additional charges against Advani and others and proceed against them.

Advani and his supporters in the BJP were sure that he will be made President of the country, but he has lost the chance, Lalu added and said it was he who ordered the arrest of Advani in 1992. "I arrested Advani, no one else," Lalu said.

Demanding a harsh punishment, Lalu said he and his party RJD have been fighting for social and communal harmony.