Bengaluru molestation: Home Minister says his comments twisted, NCW issues notices to him and Azmi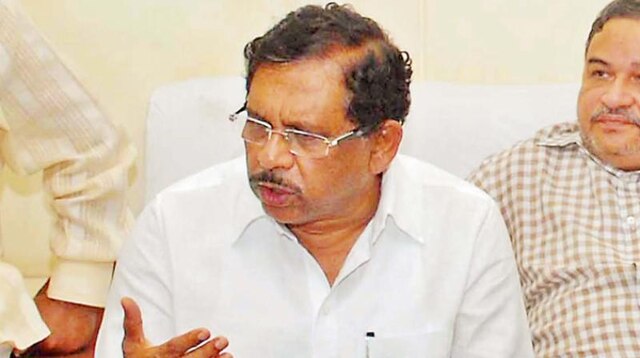 Bengaluru: Karnataka Home Minister G. Parameshwara on Tuesday said his statement on the alleged molestation incident on New Year Day was interpreted out of context.
"I am extremely pained by the fact that my statement with respect to the alleged molestation incident has been interpreted out of context and not taken in its entirety," he said in a statement.
Video Courtesy- ANI News/Youtube


Parameshwara is said to have blamed the "western ways" of the youngsters for the molestation. He said it was not uncommon for crowds of women to be molested in the city on Christmas and New Year's Eve.


The minister was also reported to have said that "these kinds of things do happen".


"They try to copy the West, not only in their mindset but even in their dressing. So some disturbance; some girls are harassed; these kind of things do happen," the minister said.


However, later the senior minister, admitting that the choice of every citizen should be respected, said that women had equal rights, respect and protection under the Constitution.
"From the day I took over as Home Minister (October 30, 2015), I have stressed on the protection of women and children and will continue to do so," he said.
Noting that the Bengaluru Police were going through the footage of all CCTV cameras and following up all the leads available, the minister said the police would take necessary action suo moto.
"We also request anybody who has information (on the incident) to come forth and report to the police," he added.
The National Commission for Women on Tuesday issued notices to Karnataka Home Minister G. Parameshwara and Samajwadi Party leader Abu Azmi for allegedly making sexist comments regarding the molestation of women by a mob here on New Year's Eve.


On Tuesday, Azmi said: "It was bound to happen. Women call nudity a fashion. They were wearing short dresses."


Video Courtesy- ANI News/Youtube


Azmi is said to have commented that women were like "sugar" and men were like ants, and compared women with petrol. "If there is petrol, there will be fire. If there is sugar, ants will come," he reportedly commented.


More details:
Meanwhile, three days after the New Year eve revelry turned into a nightmare for several women who were allegedly molested at a large gathering in city's downtown area, police today claimed to have found "credible" evidence of molestation and
have registered an FIR.
the incidents drew widespread outrage with no action from the police, Bengaluru's new Commissioner of Police, Praveen Sood through a series of tweets tonight, said his team was working on the case silently.
"As promised we have found credible evidence repeat credible evidence in a case of wrongful confinement, molestation and attempt to rob," Sood had said in a tweet.
"We have taken action by registering an FIR. Investigation is in progress. Police is working.... though
silently," he had said in another tweet.
Stating that enquiry is underway by an officer of DCP rank, he has said that they have gone through the feeds from 45 cameras on MG road, and unedited video is available with police.
Eyewitness accounts had suggested that women were molested and groped and lewd remarks were also passed by miscreants late night on December 31 in the posh area even as it was claimed that 1,500 police personnel had been deployed to control the crowds.
Police had earlier said that no one had come forward to file a complaint about the incident.
If any lady lodges a complaint of molestation that took place on December 31 night, the police will not waste even a minute in registering a case and launch a probe, Sood had tweeted on January 2, adding even without a complainant if police finds credible evidence of molestation, a case will be registered suo motu without waiting.
Sood took over as the City Police Commissioner from N S Megharikh, on January 1.