BJP alleges Priyanka Gandhi insulted Lal Bahadur Shastri by putting used garland around his statute
A purported video showed Gandhi garlanding a bust of the former Indian PM with the garland she had worn. Taking a jibe at this, Union minister Smriti Irani wrote in local dialect that Congress' daughter (Priyanka) in her arrogance chose a used garland, clapped, waved and left after insulting Shastri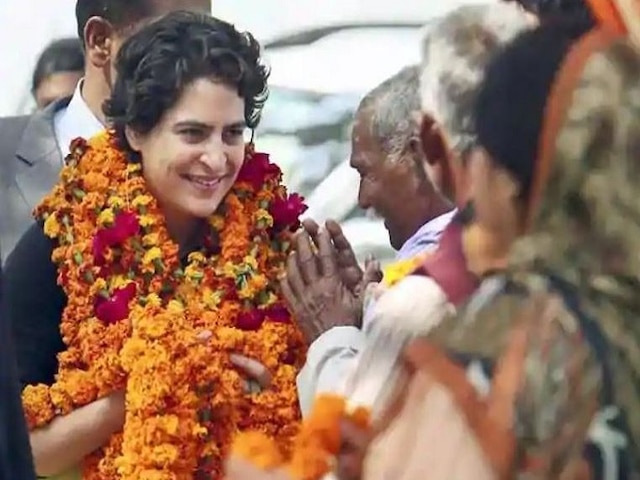 New Delhi: 
Congress general secretary Priyanka Gandhi found herself embroiled in a controversy as she culminated her three-day boat-ride campaign 'Ganga Yatra' in Varanasi. The controversy erupted when Priyanka took off a garland from her neck and put it around the statue of Lal Bahadur Shastri. The BJP was quick to monitor this gesture of Priyanka and started attacking the Congress leader for insulting Lal Bahadur Shashtri.
A purported video showed Gandhi garlanding a bust of the former Indian PM with the garland she had worn. Taking a jibe at this, Union minister Smriti Irani wrote in local dialect that Congress' daughter (Priyanka) in her arrogance chose a used garland, clapped, waved and left after insulting Shastri.



मुंडी झुकाइएके सर झटकाइएके
गुमान में बिटिया भूल गई मरजाद
आपन गले की उतरन, पहनाए दीहिन
शास्त्री जी के अपमान पर ताली बजाएके, हाथ हिलाइएके
चल दीहलें कांग्रेस बिटिया तोहार pic.twitter.com/ndwT15Y8co


— Chowkidar Smriti Z Irani (@smritiirani) March 20, 2019
BJP leader and UP Minister Sidharth Nath Singh also launched an attack on Congress and wrote on Twitter in Hindi "Shahstri Ji was never given the due respect by Gandhi/ Vadra family. But after seeing this scene, I not only feel aggrieved but also feel pity for their sanskar. How can these people run a country."



शास्त्री जी को गांधी/वदरा परिवार ने कभी समान दिया ही नहीं लेकिन यह दृश देकर दुख ही नहीं इनके संस्कार पर भी रोना आता हैं। यह क्या देश चलायें गे https://t.co/jF1RcTWCmT


— Chowkidar Sidharth Nath Singh (@SidharthNSingh) March 20, 2019


Priyanka Gandhi on Wednesday completed her boatride campaign from Prayagraj to Varanasi, interacting with people on the way. She was in Prime Minister Narendra Modi's Lok Sabha constituency and sounded Congress' poll bugle from there. She on Wednesday visited the ancestral home of former prime minister Lal Bahadur Shastri at Ramnagar here.

Gandhi, who reached here Wednesday morning by road, garlanded the statute of Shastri at his ancestral home. She was accorded a warm welcome by party leaders and workers on reaching Varanasi.