I follow Ambedkar's ideology, consider Mahishasur as a martyr: BJP MP Udit Raj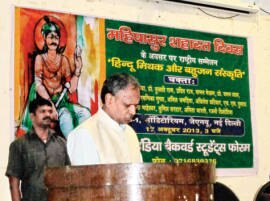 New Delhi:
A BJP parliamentarian had attended the Mahishasura festival at Jawaharlal Nehru University that Union minister Smriti Irani held up on Wednesday and Thursday as an instance of questionable activities by students on the campus.
Delhi MP Udit Raj on Thursday confirmed attending the event in October 2013 - an acknowledgement that reflected the diverse beliefs that have co-existed in the country for ages but have of late been made to look like an inflammatory exercise.
The festival has been observed on the campus every October since 2011 to debate caste issues as a tribute to the "demon" king Mahishasura, who was slain by Goddess Durga.
 "I consider Mahishasur as a martyr. Dr. BR Ambedkar had also considered him as a martyr," Udit Raj told ABP News.
"I attended Mahishasur festival in 2013. I was not a part of the BJP at that time. I follow the ideology of Dr. BR Ambedkar, who considered Mahishasur as a Messiah of Dalits, how can I go against him," he said.
Many backward communities worship Mahishasura and believe that the gods plotted to kill him because, as a backward caste ruler, he had threatened Brahminical dominance.
"I attended the Mahishasura festival because I believe that caste discrimination is bad. But I also attend other seminars at JNU. I am an alumnus of JNU," said Raj, whose Lok Sabha website profile shows he has headed many Dalit-tribal welfare bodies.
Irani has told Parliament that the festival has been hurting the sentiments of Durga worshippers.
Those who have attended the event include writer Anil Chamadia and activist Gurinder Azad.
Chamadia said the festival was not against any religion but only questioned the Brahminical social order. He said many backward communities worship mythological characters portrayed as demons, including Ravan.
"It (the form of the festival at JNU) has always been (that of) an academic discourse. I attended it once. The students bring a picture of Mahishasura, and Dalit and Bahujan experts debate the cultural order in which Dalits and backwards were treated as demons," Chamadia said.
Azad said the city of Mysore was named after Mahishasura, who ruled that region. The festival was conceptualised after Dalit writer Prem Kumar Mani wrote an article that had references that were deemed objectionable by some sections.
The article was published in the bilingual Hindi-English monthly,
Forward Press
. Delhi police raided the magazine in October 2014 for printing essays on Mahishasura Divas every year.
Its editor, Pramod Ranjan, said the magazine would publish its last issue in June this year.
"The chargesheet in the 2014 case is yet to be filed. But we have continued to face physical attacks, phone threats and online intimidation. With the BJP at the helm, life has become more difficult for us," he said. "So we have decided to discontinue the magazine."
In Parliament, Irani had read out from a purported statement by some JNU students in October 2014 that termed Durga Puja a "racial festival, where a fair-skinned, beautiful Goddess Durga is depicted brutally killing a dark-skinned native called Mahishasura".
On Thursday, when the minister continued to read from the social media post in the Rajya Sabha, the Opposition questioned the sagacity of reading out content that may inflame religious passions. In the uproar that followed, the House was adjourned.
According to mythology, Brahma, Vishnu and Shiva created Durga at Indra's request to slay Mahishasura, who had received a boon from Brahma saying no one except a woman could kill him. Mahishasura had fought and defeated the gods. Durga killed him after nine days of stay on Earth.
JNU witnessed clashes in 2011 over the hosting of the Mahishasura festival by the All India Backward Students Federation. H.B. Bohidar, a member of the university panel probing the current controversy, was then chief proctor. He had sent a show-cause notice to the organisers, who were injured in an alleged assault by the ABVP.
The violence occurred after a poster featuring a painting of Mahishasura by Lal Ratnakar, reproduced from the October 2011 issue of
Forward Press
, was pasted on campus. The same image is seen behind Udit Raj in a photo taken during the 2013 event.
Since the raids on
Forward Press
in 2014, the Mahishasura Divas celebrations have been scaled down on the campus.
Sanghapali, a JNU student, told this newspaper that all Hindu mythological texts sought to denigrate the lower castes. "Mahishasura was a great king. Everybody was happy with him in his kingdom except the gods, who represented Brahmins," she said.