BJP trumpet falls silent for now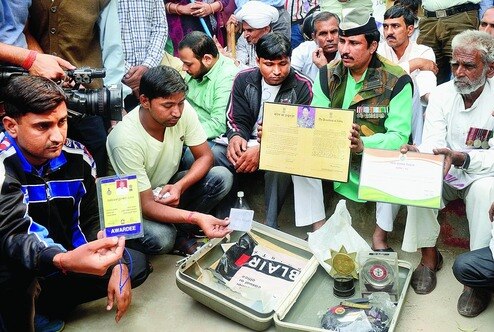 New Delhi: The BJP found itself on the back foot over the suicide of an ex-serviceman, facing Opposition attacks on Wednesday after basking in the success of the September surgical strikes and the "encounter killings" of eight Simi operatives two days ago.

The " sena" (armed forces) has become a key political plank for the BJP in recent months and party leaders were seen hounding anybody raising questions on the surgical strikes against Pakistan on September 29.

However, after Subedar Ram Kishan Grewal's suicide, the ruling party's belligerence was all but lost.

Grewal had alleged non-implementation of one rank, one pension (Orop) for soldiers, a plan the Modi government has said it has effected in November 2015. A section of ex-servicemen, unhappy with the government's implementation, has continued with a sit-in demonstration at New Delhi's Jantar Mantar for over 500 days now.

BJP national secretary Shrikant Sharma launched an attack on Congress vice-president Rahul Gandhi and Delhi chief minister Arvind Kejriwal, accusing them of "playing politics" over a dead soldier. Sharma also charged Rahul, who was detained by police for trying to meet the dead soldier's family, with denting the morale of soldiers.

But most other BJP leaders chose silence, trying to formulate a proper response.

"At a time when the country is facing a threat of terror attacks, and there is a need to boost the morale of the armed forces, these leaders are spoiling it with their politics," Sharma said.

"The suicide of ex-serviceman Ram Kishan Grewal is unfortunate and our sympathies are with his family. But it is most unfortunate, the way Rahul Gandhi and Arvind Kejriwal are playing politics over his death," he added.

The BJP leader tried to take on the Congress for not implementing Orop when it was in power and alleged that Rahul was trying to politicise the death to cover up the Congress's failure.

"Rahul Gandhi is a part-time, non-serious politician. His party and government had always misled ex-servicemen and did not implement Orop. He should answer why Orop was not implemented by the UPA government," Sharma said.

The BJP leader's attack sounded like an echo of what the Opposition had accused the government of doing after the Uri terrorist attack and the subsequent surgical strikes by India. The Opposition had then charged the government with using the sacrifice by jawans for political gain in poll-bound Uttar Pradesh and other states.

Grewal's suicide has come when the BJP was basking in the success of the surgical strikes and was confident the issue had given it political mileage in the heartland state that faces elections early next year.

Internally, BJP leaders acknowledged the suicide by the ex-serviceman had put them on the defensive but hoped the issue would die down soon.