Gas chamber: Blanket of smog thickens in Delhi, doctors call the situation alarming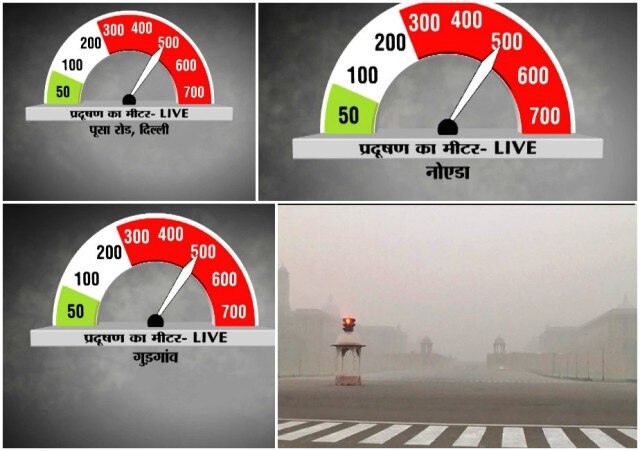 New Delhi: The blanket of smog, combination of fog and smoke, has once again thickened in the national capital Delhi on Sunday.
The process started from Saturday itself. Delhi and the surrounding NCR remained engulfed in a shroud of smog on Saturday amid growing worries over air pollution which stayed at a "severe" level throughout the day with Delhi Chief Minister Arvind Kejriwal comparing the situation to "gas chamber".
The smog has reduced visibility. People in different parts of the city are complaining of irritation in eyes and throat and also respiratory problems.
Right now the level of pollution in Pusa road, Delhi.
Right now the level of pollution in Noida.
ALSO READ: 
Delhi smog: Arvind Kejriwal calls cabinet meeting today
Right now the level of pollution in Gurgaon.
What is smog:
Smog
is kind of visible air pollution. It is composed of nitrogen oxides, sulfur oxides, ozone, smoke, carbon monoxide, CFCs and radioactive sources. Smog, which is man-made, is derived from coal emissions, vehicular emissions, industrial emissions, forest and agricultural fires and photo-chemical reactions of these emissions.
Pollution affecting not just high-risk groups, but normal people too, says Doctors
With Delhi and NCR region engulfed in a shroud of smog, doctors say that not just people belonging to high-risk groups but others with underlying respiratory problems are coming with complaints of chest tightness and congestion.
Residents continued to complain of respiratory problems and burning eyes as entire Delhi and NCR area remained covered in a shroud of smog the entire Saturday, while experts ruled out any respite with the situation expected to continue for a couple of days.
"There is significant raise in the number of people coming to the emergency and the OPD with chest tightness and congestion. People with ashthma and COPD (Chronic Obstructive Pulmonary Disease) have gone up by 15 to 20 per cent," said Randeep Guleria, Professor and Head, Pulmonary Medicine and Sleep Disorders, AIIMS.
"Also normal people who have underlying respiratory problems are coming with feeling of chest tightness because of pollutants which are at toxic levels. Not just the high-risk group like elderly and small children, but also normal people are getting affected," he added.
He also said there is a need to take emergency measures in the current situation. "This is like an emergency situation. We should try and see what we can do about traffic on the road, crop burning, and decrease of road dust.
"We need to be aggressive at all fronts because there are multiple factors. It is not just one factor that is contributing to the pollution," said Guleria.
According to doctors, high-risk people should try and stay indoors and drink lots of fluids.
"People should try and avoid going out They should stay indoors, drink lots of fluids so that body mositure and body hydration is good," said Arup Basu, Pulmonologist at Sir Ganga Ram Hospital.
"People should avoid too strenuos physical exertion because the level of oxygen in the atmosphere is less. If you have underlying respiratory problems, you would be advised to take some medicines, be regular on those medicines, and take them in proper manner," he added.
Basu also said those who have breathing pproblems should consult a physician and avoid crowded places.
"The usual medicines are not being so affective in treating them also. Many of them have to be put on steroids or they need to be put on ventilators. Even normal people who don't have any respiratory diseases, they are also getting affected.
"Many of them are getting admiited to hospitals because of worsening of their problems.
The number has gone up by 100 per cent," he added.
Experts say since there is no significant wind or breeze in the air, the dust and haze are not getting blown away.
Raj Kumar, Professor and Head, Department of Respiratory Allergy and Applied Immunology at Vallabhbhai Patel Chest Institute, said: "Not just the people with ashthma and COPD are getting affected by the pollution level, but also the normal people. This year the pollution level has been worst in many years."