CBSE Board Class 10th X Results 2016: Name wise, roll number wise SSC Results declared on 27 May @ Cbseresults.nic.in, Cbse.nic.in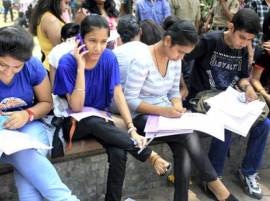 NEW DELHI: CBSE Board class 10th results (Name wise, Roll number wise) have been declared today by the Central Board of Secondary Education, on CBSE official websites: www.cbse.nic.in  www.cbseresults.nic.in and www.results.nic.in

We know that waiting for exam results, especially for big tests like Class 10th or 12th examinations could sometimes be a stressful experience. However, we are keeping you updated on on priority about your results. But now speculations have been ended.
The CBSE has conducted its Secondary School Certificate (SSC) Examination in the month of March.
According to the board, of the total 14,99,122 registered students for Class 10th examination, 8,92,685 are boys and 6,06,437 are girls.
ALSO READ
:
CBSE class 10th results; How to cope with stress on results day
Follow these three steps to check your results
:
1: Access the official websites:
www.cbse.nic.in
www.cbseresults.nic.in
 and 
www.results.nic.in
2: Enter your details such as roll number and other required details in the respected fields.
3: Click on 'Submit' and your results will be flashed on the screen.


The Central Board of Secondary Education (CBSE) had announced its Class 12th examination results on May 21 at 10:30 am.

In the CBSE class 12th results declared last week, the overall pass percentage was 83.05 which is an improvement over last year's 82 percent.

In all a total of 10,65,179 candidates had registered for the exam this year, a 2.38 percent increase over the number of candidates that appeared last year.

We wish you all the best for upcoming results!  Stay with us for more.