Central Gujarat Elections Results 2017 LIVE UPDATE: Rakesh Shah of BJP wins from Ellisbridge constituency
Central Gujarat Elections Results 2017 LIVE: Counting to take place for 40 seats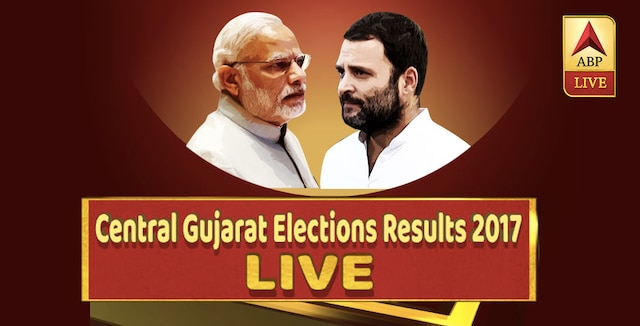 Gujarat Elections Results 2017: Today, counting of votes is taking place for
the two phased Gujarat Assembly Elections 2017 that ended on Thursday.
The fate of candidates will be revealed by evening and who is chosen by the voters and who is dumped, we all come to know about.
One of the important regions of Gujarat is Central Gujarat. It has 40 seats.  
Regions in Central Gujarat includes Ahmedabad, Vadodara, Anand, Kheda, Panchmahal, Dahod and
Chhota Udaipur districts.
Central Gujarat Elections Results 2017 LIVE UPDATE:



Rakesh Shah of BJP wins from Ellisbridge constituency in Ahmedabad


BJP ahead in 21 seats in Central Gujarat


Congress ahead of BJP in Gujarat (81/85)


BJP ahead in eight seats in Ahmedabad


According to early trends, BJP needs only nine seats for forming majority government in Gujarat


BJP performing very well in Central Gujarat


BJP ahead in five seats in Ahmedabad


"I assure you that there can be no tampering with the EVMs" says Chief Election Commissioner (CEC) AK Joti


BJP ahead in early trend





#Visuals from a strong room in #Ahmedabad, ballot boxes brought in for counting #GujaratElection2017 pic.twitter.com/sT6oP9QQzK


— ANI (@ANI) December 18, 2017

Gujarat: Visuals from Election Commission's webcasting control room in Gandhinagar. EC has installed a total of 1251 cameras across 37 counting centres in the state. pic.twitter.com/CfV4y7YUM3

— ANI (@ANI) December 18, 2017

Visuals from outside a counting centre set up at Polytechnic College in Vadodara. Heavy security deployed. #GujaratElection2017 pic.twitter.com/8pyjBMjz5I

— ANI (@ANI) December 18, 2017



Congress is all set to form government in Gujarat: Alpesh Thakor 




Counting of votes to commence from 8 am



Central Gujarat, once a Congress' fort, slipped from its hands gradually. However, Congress, has been trying to save its fort and pitch BJP's failure. 
Post polarization in 2002, Central Gujarat had delivered one of the most stunning verdicts, 37 on 41 for the BJP. 
In 2007, the BJP's sway over central Gujarat reduced substantially with the tempers cooling down.
North and central Gujarat put together gave the BJP 56 seats in 2007.
In 2012, BJP won 20 of the 38 seats up for grabs in central Gujarat and this time, it is banking on new inroads into tribal communities, which have more or less voted for Congress. 
Alpesh Thakor factor:
This time the fight for BJP, in Central Gujarat, is even more tough as OBC leader Alpesh Thakor has joined hands with Congress against BJP. He comes from Ahmedabad. He may pull OBC votes in favour of grand old party.