Chief Secretary assault case: Police at Kejriwal's residence, seize recordings of 21 CCTVs
AAP leader Ashutosh had said Anshu Prakash's MLC report states that the alleged assault on him took place after 12:00 PM, while in the CCTV footage, he is seen walking out of the chief minister's residence at 11:30 PM.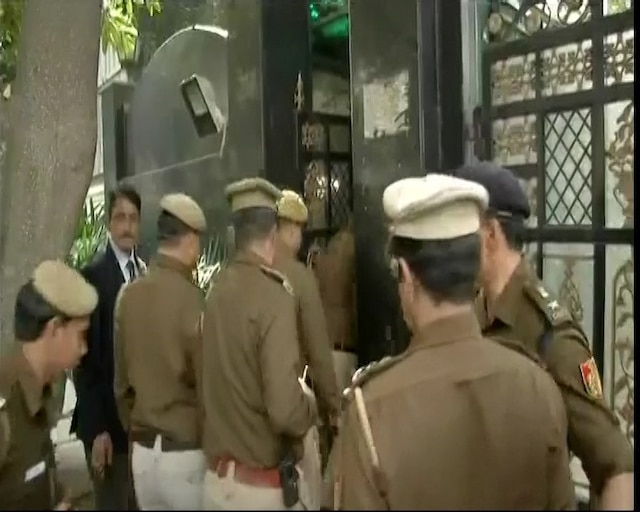 New Delhi: A team of Delhi Police officials led by DCP Harinder Singh arrived at CM Arvind Kejriwal's residence to review the CCTV footage in connection with Delhi Secretary Anshu Prakash's assault case. This is for the first time police has entered Kejriwal's residence since him becoming the chief minister.



दो थप्पड़ के आरोप की जाँच के लिए CM के पूरे घर की तलाशी। जज लोया के क़त्ल पर पूछताछ तो बनती है। नहीं? https://t.co/jhU4e0kSvr


— Arvind Kejriwal (@ArvindKejriwal) February 23, 2018
Kejriwal while leaving his residence told reporters, " I am happy the probe is take place with such dedicatio, but I want to ask was Amit Shah (BJP chief) questioned in Justice Loya's death case."
(WATCH BELOW)
Speaking on the matter, rebel Aam Aadmi Party MLA Kapil Mishra raised doubts on the footage alleging that it must have been tampered by now.  "Kejriwal's office chamber is like a 'gufa', I am told there are no CCTVs installed there."



Delhi Chief Secretary assault case: Police officials at CM @ArvindKejriwal's residence, to review CCTV footage. https://t.co/JQJlKZeiOk pic.twitter.com/0qgD1gdYWx


— ABP News (@abpnewstv) February 23, 2018
Mishra said there were clear indications of a brawl since Prakash was seen briskly walking towards the exit door of CM residence with his car following him from behind.
After visiting Kejriwal's residence, ADGP of North said that only 14 of 21 cameras installed were operational and that cops have seized recordings of 21 CCTV cameras.



There are 21 cameras installed out of which 14 were operational& recording was off in 7. There was no camera in the room where the incident took place. The cameras were running behind time by 40 minutes. We have seized recordings of 21 CCTV cameras & a hard disk:ADGP North #Delhi pic.twitter.com/ItMJECUi9h


— ANI (@ANI) February 23, 2018
Delhi Chief Secretary Anshu Prakash leaving CM Arvind Kejriwal's home on Feb 19.
AP MLAs Amanatullah Khan and Prakash Jarwal, arrested for allegedly assaulting Prakash, were on Thursday sent to 14-day  judicial custody in Tihar Jail by a Delhi court which reserved its order on their bail pleas for today.
Meanwhile, Delhi Police on Thursday presented a fresh statement by Kejriwal's advisor V.K. Jain, in the Tis Hazari district court, in which he changed his earlier statement to allege that he saw MLAs surrounding chief secretary and "physically assaulting him" in the presence of the chief minister at his residence.
Party spokesman Ashutosh said, "The truth is that Mr VK Jain was picked up by the Delhi Police and CBI officials at 8am this morning, and was pressured into changing his statement. How is it that the same Mr Jain who emphatically said yesterday that he witnessed no assault during the entire time that he was present there, has now claimed otherwise? On the one hand, Aam Aadmi Party MLAs are being arrested over an alleged assault of which there is no proof, but on the other hand, despite there being video footage of officials assaulting Delhi Cabinet Minister Imran Hussain, there is no action taken against the guilty by the Delhi Police."
Talking to ABP News today, Ashutosh said he doesn't have faith on the investigation of Delhi Police which functions at the behest of ruling BJP government.